© K. L. Kamat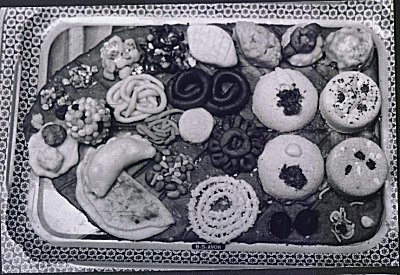 Old Time Parties
Drinking habits of men and women of Karnataka as described in medieval texts and sculptures.
Degrees of Vegetarianism
Some notes on what is considered as vegetarian food in India, and some reasoning behind those practices.
Food Habits of Vijayanagara Times
Research paper explores the food habits of Indians during the Vijayanagar times, using references in period literature, archaeology, and travelogues.
Food and Drinks of Mediaval Karnataka
Culinary Arts
Study of Indian paintings and sculptures reveals India's rich culinary traditions.
The Supa Shastra
Study of the classic "Supa Shastra" of Mangarasa is fascinating for the elabortae recipies of ancient India.
Fun with Vegetables
Kamat's lust for life is reflected even in the vegetables he buys! Pictures of common and uncommon vegetables of India.
Tropical Fruits of India
Pictures of exotic tropical fruit varieties of India; mangoes, jack-fruits, guavas, and jambosa.
Indian Eateries
Series of pictures on common eateries of India. See where India eats!
Konkani Food
Pictures of Konkani delicacies, recipes; see raw materials and tools used in Konkani cooking.