Lord Ramachandra
First Online: February 27, 2001
Page Last Updated: January 10, 2018
According to the Hindu tradition and beliefs, Sri Ramachandra was born to the Dasharatha (king with ten chariots), once the emperor of Ayodhya. Ramachandra was the seventh re-incarnation (avatar) of Lord Vishnu and came upon the earth to liberate the world from evil forces.
Rama as he is commonly referred, represents the perfect man for Hindus. He honored the elders, honored his word, launched a great war to defend his wife, and as a ruler brought happiness to his population. Rama is glorified in songs, poetry and art and in some of the greatest works of Indian literature.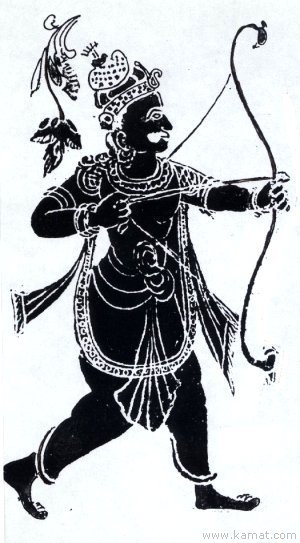 Warrior Rama with his Bow
The story of Rama's life is documented in ancient Hindu texts as Ramayan and is very popular among Indians. Some of the most famous works are by Valamiki Ramayana by Sage Valmiki, and Ramacharitamanas by Sage Tulasidas. The story of Ramayana was made into a dramatic television series in the 1980s. Lord Rama's birthday Ramanavami is celebrated across India in the month of April every year.
See Also:
Internet Links