Abbakka the Brave Queen (C 1540-1625 CE)

by Dr. Jyotsna Kamat
First Online: October 31, 2007
Page Last Updated: January 10, 2018

Like Chennabhairadevi of Gerusoppa and Chennamma of Keladi, Abbakka, the queen of Ullal has a glorious record of fighting the enemy under adverse circumstances. Though local sources do not throw much light on her defeating the Portuguese fleet, which had surrounded her small coastal principality, she had attained international celebrity! Arab & Portuguese sources mention about this incident. Pietro Della Valle, the famous Italian traveler who toured India's westcoast between 1621 to 1624 CE, had met the Persian emperor Shah Abbas, prior to his trip to India. Shah Abbas was full of praise of Abbakka's feat. Pietro made it a point to meet the courageous Queen during his trip to India. We owe to Pietro Della Valle, eye-witness record of the Queen who happened to be as benevolent as brave and as farsighted as she was firm.

Spain and Portugal were the most powerful maritime empires of the world at that time. They had conquered the American continent and had become very rich by their indiscriminate looting and killing. Portuguese in India were no exception. In addition they had specialized in piracy over Arabian sea and offered tough competition to Arab traders who had continuous trade link with India's various kingdoms, prior to Christian Era. Finally Spain and Portugal joined with marital ties to pose that theirs was the invincible empire in the whole world.

R.S. Naidu/Kamat's Potpourri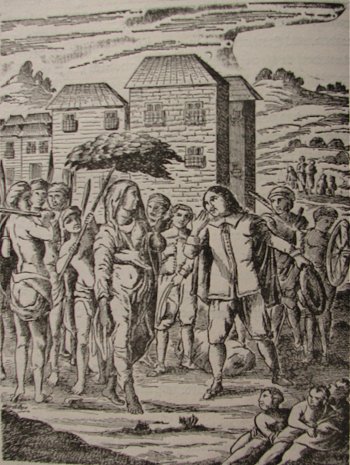 Pietro Della Vale Meets Queen Abbakka
Illustration by R.S. Naidu based on Italian originals
It was at this juncture, that Abbakka made name in Arabia and Persian world, by defeating the Portuguese fleet, which had planned to occupy her harbor town and capital, Ullal.
Mangalore, Bhatkal and Honavar were international ports in Vijayanagar times. Well-bred Persian & Arab horses were imported which, were most essential force for battles of by gone days. Indian spices including black pepper, cloth, rice, medicines, jaggery, sugar etc. were in great demand in Europe and Mediterranean countries. These were produced in abundance in all the coastal belt. More than a dozen chiefs ruled in this region whose area at times, did not exceed more than 100 – 200 villages! Prominent among them were Santras (Bairaras) of Karkal, Bangas of Bangadi (Nandavar), Sawants of Mulki, Choutas of Mudbidri & Ullal, Ajilas of Venur, and Tolahas of Sura!. These chiefs fought among themselves and with local administrators of Vijayanagar, most of the time, to become independent or for reduction fee in tributes and subsidies. But the strong Central Government of Vijayanagar had kept them under control, with overall supervision of Nayakas of Keladi.
But the battle of Rakkasatangadi dealt a death blow, to Vijayanagara in 1565 CE. Each subordinate governor tried to become an independent king and minor chieftains tried to become free rulers. Venkatappa Nayaka of Keladi who had annexed Gerusoppa at the time was slowly trying to have hold in the entire region, which was "infested" with Portuguese pirates, looters and marauders at sea.
Abbakka, Queen of Ullal was married to Lakkarasa, Banga prince of Bangadi. It was more a marriage of convenience than conviction. Lakkarasa was pro-Portugese and depended on sops offered now and then by these foreigners. Abbakka was against the monopolization of the Portugese trade of pepper and other goods at the low price they offered, which was sheer exploitation. She took the custody of their three children as per matrilineal custom (Aliya-santana Kattu) prevalent in the region and lived in Ullal. Banga ruler remained in Bangadi. After some time he married Mula Noble's daughter, Tankaradevi. Abbakka & Lakkarasa separated. Lakkappa also developed animosity with Keladi rulers and the latter were waiting for an opportunity to teach him a lesson. Abbakka had good diplomatic relations with Keladi as also with Zamorin of Calicut. Unheedful of warning of Portuguese, Abbakka sent spices and other goods to Middle East with Zamorin's help. The Portuguese captured the ship in mid-sea. Angered Abbakka attacked Mangalore fort where the Portuguese had built a factory. The Portuguese were bidding time to attack Ullal.
In 1618, Venkatappa seized Banga capital and proceeded to Mangalore. Guessing, Ullal & near by region were unprotected, the Portuguese surrounded Ullal with their naval fleet at sea, and waited for proper opportunity.
It was dark-moon night. At midnight a band of fearless Mogers (fishermen) and Moplah soldiers got into country boats as instructed by Abbakka, approached Portuguese warships, and at a signal, threw burning coconut torches hundreds of them in a moment. The sails caught fire and ships started burning. Those who wanted to save their lives jumped into the sea, only to be killed by waiting Abbakka's soldiers. Two hundred Portuguese soldiers were killed and two warships sank according to Portuguese sources. The Portuguese navy returned with big loss.
When Pietro Della Valle reached Mangalore, he made way for Ullal to meet Abbakka who had become famous by then. When he arrived, he learnt that the Queen had gone to Manel, a village near by to supervise some irrigation work. He went by boat to Manel, and while waiting for the queen, he was told by the interpreter (whom he had engaged) that the queen was returning to camp. He joined the group of people who were greeting the queen with folded hands.
Accompanied by 8-10 soldiers, carrying shields and swords, he saw Abbakka walking barefoot in the middle. A servant was holding a palm-leaf umbrella over her head as protection from Sun. The queen had dark (brown?) complexion and she was clad in an ordinary cotton sari with another cloth covering her head and upper body. "In brief, her aspect and habit represented rather a kitchen-woman or a laundress than a delicate and noble queen". Wrote Pietro, disappointed.
Being greeted by a foreigner, the queen enquired whether anybody knew Pietro's language. The interpreter came forward and Abbakka addressed Pietro right on the road, amidst the crowd. Pietro introduced himself as a non Portuguese, and had come form the land of great Pope. He had so far seen several countries, and people, including Emperor of Persia, and others.
After getting more details, the queen asked, "After seeing The Great Turk, Persian Emperor, Mogul Emperor and Venkatappa Nayaka, what is there to see in this wilderness?"
"I came only to see you, Your Majesty. You are so well-known in my part of the world!" -- Pietro informed.
The queen looked pleased and after making arrangements for Pietro's comfortable stay, She told him, that she will give audience later. With motherly concern, she had enquired Pietro, who would care and nurse him if he fell ill in his lone wanderings in a strange country. Pietro replied that it was his God in whom he had immense faith.
But Abbakka never sent for him though Pietro waited for three more days. However her teen-age son entertained him at his residence, served Indian food of which Pietro has left a vivid description. He has also described the matrilineal custom, prevalent in Kerala and Tulunad.
There were other chieftains in western coast like this smalltime queen. But Pietro Della Valle has given account only about Abbakka. He states that she was a noble queen who loved her subjects, personally supervised welfare measures and settled disputes in evenings. He has compared her to Persian Emperor Shah Abbas as a benevolent ruler, besides being extraordinarily courageous.