Indira Gandhi

by Vikas Kamat
First Online: May 28, 2006
Page Last Updated: January 04, 2018

Indira Priyadarshini Nehru, and more popularly known as Indira Gandhi (1917-1984) is perhaps the most dominating person in Indian history after its independence in 1947. Indira was born to Jawaharlal Nehru and Kamala Nehru in the politically influential family and is said to have been groomed to be a leader of India since her childhood. Her father, grandfather, aunts and mother, all had served important roles in the formation of India.

See: Nehru-Gandhi Dynasty -- For five generations the Nehrus and Gandhis have dominated Indian political scene. A pictorial essay lists the various positions they have held..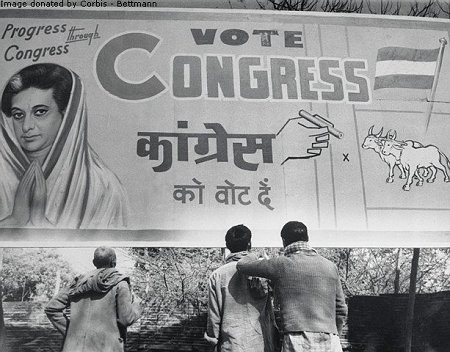 Despite her grooming, nobody quite expected the courage and the political manipulative skills Indira was to show during the tumultuous fifteen years she served as India's prime-minister (1966-1977 and 1980-1884) and the years leading to that position. Indira is most often quoted as the first woman leader of a big nation.
Rise of Indira Gandhi
In 1964, after her father (and Prime Minister of India, Nehru) died, Indira was elected to the parliament. A void was created in the nation with the untimely and mysterious death of Lal Bahadur Shastri and as India and Pakistan were at war. Indira Gandhi, was named prime minister on Jan. 19, 1966, mostly because the other contenders in Congress couldn't bear each other and the consensus was a woman, a widow (her husband Firoze Gandhi died in 1960) would be able to bridge the gap due to her family background and public sympathy.
Indira quickly started consolidating her position. She spilt her own party to get rid of elements opposed to her. The Indian National Congress, the greatest Indian institution thus split into "Old" and "New" wings in 1969, with Indira controlling the "New Congress".
Indira as Courageous Leader
During the 1970s India as a nation was barely twenty years old and faced numerous problems. The refugee problem neighboring West Pakistan was a priority, but India could not act because it would appear as interfering in Pakistan's internal political affairs. Indira sought to build an international consensus, only to be shunned by Great Britain (former ruler) and the U.S.A. So Indira went to war with neighboring Pakistan, won, and created a new nation of Bangladesh. This courageous leadership made Indira very popular domestically, and her her willingness to take on America brought India closer to the U.S.S.R., the cold-war rival.
In 1974 India test fired a nuclear weapon, in a show of might and announcement of her importance in Asia. Indira became synonym with India, and was referred to "Amma", motherly figure.
Indira Becomes a Dictator
Faced with protests and strikes after the New Congress party was convicted of voting irregularities in 1975, Mrs. Gandhi declared a state of emergency in June of 1976. Press censorship was imposed, thousands were arrested for political offenses, and various economic-control measures were adopted. In what is known as a black stain on India's democracy, the fourteen months of emergency resulted in excessive use of force, large scale favoritisms, and coterie building, and people of India became fed up with Indira's hard-handed rule.
In a stunning display of resiliency of Indian democracy, Indira and her son Sanjay were defeated in that election, by candidates who were still in prison. Indira's Congress Party lost power, and a new political force, the Janata Party, emerged. But the weakening of opposition Indira Gandhi had engineered was to have a far damaging impact on the nation, resulting in successive governments that were weak and unstable.
Indira Gandhi Re-emerges
Mrs. Gandhi's party was returned to power in 1980, and became a premier once again, and resumed her authoritative ways. Her son and heir apparent, Sanjay Gandhi died in a plane crash and devastated Indira. Subsequent to it, her elder son Rajiv Gandhi, who hitherto was unwilling politician, was inducted into India's politics.
After an army attack on the Sikhs' Golden Temple in Amritsar, Gandhi was assassinated by her Sikh bodyguards in October 1984. She was succeeded in office by her son, Rajiv, who placed the Punjab under direct control of the federal government.
Legacy of India Gandhi
Indira sought to build India as a leader nation. Her policies of nuclear independence, and regional leadership have helped India forge a strong regional influence.
Indira cancelled the deal that was made by her predecessors with the Princely States of India, claiming that the riches belonged to the people of India. While this move was popular with the masses, it paved way for dishonest governments and the government lost credibility forever in India.
Indira's socialistic and populist schemes further impoverished the country, and alienated India from the economic progress during 1980s.
Historians and intellectuals blame India Gandhi, for her abuse of power and democracy, for her lack of vision, for sacrificing the nation's interests for the benefit of her coterie, and for playing immoral politics against the Sikhs.
Nobody can deny Indira Gandhi's important role in forming of 20th Century India. Neither can they deny that she died while serving the nation, and hence deserves the reverence of a martyr.