Musical Tradition of Karnataka
First Online: June 24, 2001
Page Last Updated: May 09, 2017
Karnataka has a glorious tradition of music, contributing to both Hindustani and Karntataka (a.k.a. Carnatic, and South Indian Classical) forms. It was in the 12th century A.D. that Basaveshwara, the Prime Minister of Bijjala, king of Kalyana and a great propagator of the Bhakti Movement in Karnataka gave a great impetus to the development of music through his Vachanas (promise literature) which lend to the musical rendering. Akka Mahadevi, Shantala, Allama, Chandraja are some of the great exponents flourished during this period.
During the Vijayanagar period, the royal sage Vidyaranya who was himself a great scholar of music, wrote Sangitasara.His scheme of placing a raga within a defined scale was further; elaborated and concluded by Venkatamakhin in his famous work Chaturdandi Prakashika. The scheme of seventy-two melakatas propounded by constitutes a mark in the history of Indian Music. Chaturkallinatha's Sangitaratnakara commentary is another important work of the period of prince Mallikarjuna during 15th century A.D.
The Haridasa Movement and Devotional Music
Vaishnavism in Karnataka inspired the Haridasa movement and Naraharidasa may be regarded as the founder of this movement . But the greatest among these Haridasas was undoubtedly Purandaradasa, a prolific composer who created an epoch in Karnataka music. His works which are highly philosophic and devotional in content, but very simple in language, have enriched the Kannada language and literature. Kanakadasa, Vijayadasa, Jagannathadasa are some of the famous personages in the line of Haridasas, who have made notable contribution to Karnataka music through their fascinating composition.
K.L. Kamat/Kamat's Potpourri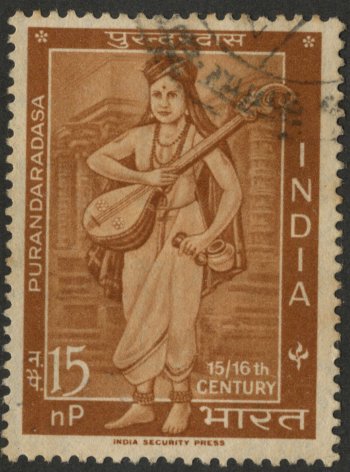 Composer Purandaradasa (15/16th Century)
Purandaradasa was a great literary and musical genius
The Masters
The music of Karnataka owes very much to the Vijayanagar kings, who themselves being great scholars in music and literature, gave a lot of encouragement. This tradition of patronizing arts and letters was continued by the Wodeyars of Mysore, who were eminent scholars and musicians of high caliber and made significant contributions to music. Chikkadevaraya, the author of Gitagopala, Simhabhupala who wrote a commentary 'Sudhakara' on 'Sangitaratnakara', Jayachamarajendra Wodeyar who composed keertanas are names of importance. A galaxy of musicians both vocal and instrumental decorated the courts of Mysore Wodeyars. To mention a few, Mysore Sadashiva rao, Veene Sheshanna, Veene Subbanna (picture), Bidaram Krishnappa, Muthiah Bhagavatar, Bhairavi Kempegowda the great composer of Mysore Vasudevaraya, violin maestro T. Chowdaih may be regarded as the representatives of this great musical tradition.
Karataka has also contributed some great artists to Hindustani music. Mallikarjun Mansoor, Bhimsen Joshi, Basavraj Rajguru, Gangubai Hanagal are prominent names in the world of the other form of Classical Indian Music.
Popular Music
Like other parts of India, the light music and folk music are very popular with the masses. In the early years of forming the statehood of Karnataka, a new form known as Sugama Sangeet (light, innovative music) became very popular, where works of G.P. Rajaratnam, Kuvempu, D.R. Bendre, D.V. Gundappa and K.S. Narasimhaswamy were beautifully compeered into best selling alubms by the likes of P. Kalinga Rao, Mysore Ananthaswamy, and later by actor Rajkumar.
Sunitha Ananthaswamy/Kamat's Potpourri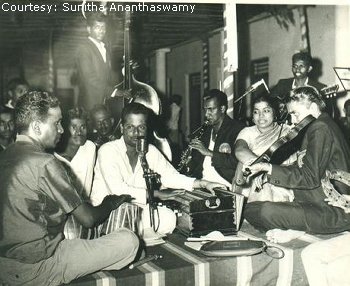 Mysore Ananthaswamy at a Concert
By rendering the popular Kannada songs to melodious tunes, the Sugama Sangeet brought the works of great Kannada poets to common households and popularized songs in Kannada language.

References
L. K. Srinivasan, "Cultural Heritage of Karnataka", Dasara Cultural Festivities Souvenir 1983 © Government of Karnataka.All Rights Reserved.

The Sandalwood Palace (Gandhada Gudi) -- unpublished works of K.L.Kamat