Kannada Poet Kumaravyasa

by Dr. Jyotsna Kamat
First Online: July 12, 2009
Page Last Updated: January 06, 2018

Poet Naranappa whose penname is Kumaravyasa (Vyasa Junior) is the most popular Kannada poet through the last six centuries. His version of Mahabharata, written in simple and almost spoken language in the shatpadi or six-line meter which renders beautifully for recitation with or without the simplest string instrument Tanpura, has caught the imagination of elders, housewives, youngsters and kids who laughed and cried when trained gamakis (reciters), who sang with feeling, brought out the Mahabharata heroes and heroines to life.

Naranappa's great epic is named Karnata Bharata Katha Manjari or simply as "Gadugina Bharata" (Mahabharata of Gadag). The ancient temple dedicated to Veeranarayana is still there, which attracts tourists and local worshippers. They proudly show the particular pillar in the temple, where Naranappa sat and inscribed his immortal epic on palm leaves. His logo is (Gadugina) Veeranarayana. Many Kannadigas call this epic simply as "Gadaga".

Kumaravyasa hailed from Koliwad, a village near modern city of Gadag. He belonged to the family of village accountant (karanika) whose ancestor was a minister to king Devaraya I of Vijayanagar (1406-22). Kumaravyasa had no patronage or sponsorship. If we have to believe his words, he had no formal schooling either, where slate and chalk were used for writing (halage balapava pidiyada aggalike)! But this could be his expression of humility when he further adds that Veeranarayana is the scribe not he. But he was a born poet with rich imagination, prodigious memory, keen observation and knack to utilize all the traditional learning that prevailed in attractive and familiar literary form.

It was the age of Haridasa or bhakti movement (see: Bhagavata Purana) and acts of Krishna in various ways were glorified. For Kumaravyasa was incarnation of Vishnu or Krishna. He called his work as "Krishnakatha" or story of Krishna. He chose anecdotes connected with Lord Krishna from Mahabharata but he outshines in depicting them in colorful local setting with vivid description.

Chitra Kutir/Kamat's Potpourri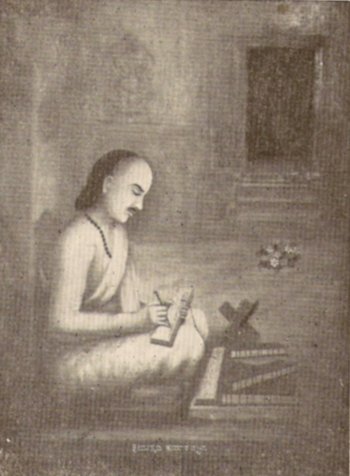 Poet Kumara Vyasa of Gadag
Painting by B.P. Bayiri, Chitra Kutir, Udupi
As a student of social history, I find his descriptions factual, contemporary and authentic,since they are corroborated by certain statements in shastras and inscriptions. For instance in the battle-scenes Kumaravyasa gives a true picture of artisans and craftsmen on both sides engaged in repairing chariots, weapons and arms. Doctors attending to the wounded men, horses and elephants with medicines and medicated oils. There used to be spot-surgery. Decoctions of various herbs, liberal use of ghee and cow-urine are mentioned.
Description of dress, ornaments, rituals and festivals gives a good picture of contemporary society. I cannot help but recollect the scene in the royal kitchen, where Bheema was engaged as a cook in disguise and Draupadi comes seeking help in getting rid of Kichaka who was harassing her. Steaks (shunthakas) and meat on spit is mentioned along with tender meat of birds etc., One is full of admiration for Naranappa who was a conservative Brahmin but however took pains to know about food habits of Kshatriyas and mentioning them in his epic to make it more natural!
Similarly various games and sports of village kids are stated while describing the childhood of Pandavas and Kauravas. Surprisingly most of these games were played till very recently. They included hide and seek, musical pillar (instead of chair. It is pillar in Indian context), ball and bat (chinni kolu), Kavades (cowrie or cowry shells), Kabbaddi (Gudugu) and ball games.
In ancient times copies of palm- books of sacred books like Mahabharata were given away in charity to reciters. We have a modern record of munificence of a modern chief minister of Karnataka (Kengal Hanumanthayya) who got printed tens of thousands of copies of Kumaravyasa Bharata on the advise of A.N. Moorthy Rao who was Director of "Kannada and Culture" department at that time and luminaries like Masti Venkatesh Iyengar and Kuvempu were advisors. The nominal price of Rs.2/- enabled lovers of literature to carry the bulky volume home gleefully. Even today many house-holders proudly display this old volume in which wisdom of Kumaravyasa continued in book form at just two Rupees!
See Also:
History of Kannada Literature
Early History | Jaina Works | Medieval Kannada | Ranna | Kumaravyasa | Sarvajna
Vachana Literature | Dasa Sahitya | Epics and Mahakavyas | Modern Kannada