First Online: August 4, 2001
Page Last Updated: November 20, 2017
Bangalore
July 9, 2001
Dear Vikas,
There are no donkeys in the district of Uttara Kannada (map - topics - pictures) where you and I grew up. So it is common to condemn the not-so-smart people as donkeys. It was in Dharwad as a student that I saw donkeys for the first time. There were a team of donkeys living behind our dorm "New Block Hostel." One night, a dispute broke out among them, and they argued and shouted like blowing away their throats. There were numerous people like me in the dormitory who had never heard the screaming of donkeys! And we had run outside the door to listen to them. My roommate R. M. Karki liked the sounds so much that to imitate the donkeys became his favorite pastime.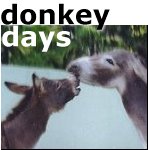 After we moved to Malleswaram, I got to see the donkeys again. The dhobis (professional washer men) used to use them as carriers to the washing place. Sometimes they would ride on them. They were let loose as the dhobi washed the clothes. To prevent the stealing of the donkeys, they branded (with hot iron) the donkeys with their names. The urchins harassed the donkeys in the streets by beating them up. When there was a shortage of rains, it was customary to take a procession of the donkeys. During the Deepavali festival, the fireworks were thrown at the donkeys to which the poor animals went berserk. At one time India, it was common for a criminal to parade on a donkey top. Do you remember that in a monument in Shravanabelagola, it is declared that to destroy an educational institute is as sinful as mating with a donkey ?!
When I visited Pakistan, along with camel carts, I got to see a number of donkey carts. Because of these donkeys spread all over the capital, no vehicle could go faster than 20 miles per hour. I have read that since 1996, the number of donkeys in Pakistan has grown by 300,000 in Karachi alone.
These days in Bangalore due to the popularity of the two-wheelers, the dhobis use them and have abandoned the donkeys. The donkeys have nowhere to go, and live on the garbage on the streets. Some believers feed them regular meals, but it is rare. There are donkeys everywhere in our neighborhood, and I am sending some of their pictures herewith.
Yours affectionately,
Bappa

List of Pictures
See Also:
Kamat's Animals -- Real, imaginary, and holy Animals from India. Includes elephants, tigers, birds, insects, and other fantastic creatures.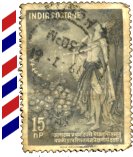 Kamat's Letters


Index