Travel Without a Pretty Penny
Jobnair, Rajasthan
August 18, 1967
Dear Jyotsna,
Kamat writes about his teenage adventure travel to see the Jog Falls in 1946-47.
I have not been afraid of travel adventures even when I did not have facilities or money. When I was fourteen, my friends and I had started the 'Kukirti' travel club by joining the first letters of our names. The six members of the club (two of whom are no longer living; my best friend Rajaram Shastri died in a train accident in Bhilai Steel Plant; Nakul Redkar who was like my shadow was consumed by cancer in 1979.) once took an adventure travel to the Jog Falls (then, it belonged to the Mysore kingdom and was known as Gerusoppa Falls). We traveled 18 miles from Honavar (then in the British ruled Bombay Presidency) by boat and reached Gerusoppa. We decided to see the Jain Basadis scattered around Gerusoppa and started crossing a stream. The leaches welcomed us with a great joy and sucked our blood gleefully. The amazing part was that none of us felt any pain! These leaches can consume enough blood to last them for a year, and only then they let go. Only after they let go, one notices the damage. In the middle of fighting the leaches, we could not pay our respects to the Jain Tirthankaras. As we returned to Gerusoppa, the boys discussed how we could profit from the leaches. One of us said that he had heard that Mumbai merchants put on so much weight that it is a problem for them. He suggested that we build a dark room infested with leaches and market it as a weight reduction therapy!
By now we were hungry. The small village had no restaurants. After some inquiries, a poor widow agreed to cook for us, (two decades later I had the privilege to eat in the same lady's house. I was glad to learn that she had raised her children well who were comfortably settled.) underestimated the appetite of the teenagers. We had very little money with us, and we could not buy phoa (flaked rice) or fruits. The owner of a rice mill was generous enough to let us sleep in his yard. However, we were afraid of being robbed in the night. We had brought with us the camera that we ourselves had bought for the school by raising funds with great difficulty. So we tied the rope through the camera and all our bags to each one of our feet. If someone should try to steal the camera, all of us would be woken up. We were so tired and fell asleep in no time, only to be woken up by Varuna, the king of rains. We were like prisoners with a rope around our feet and could not move around. We removed our shirts and wrapped the camera to protect it and took shelter under a tree. The rain subsided soon afterwards, but we could not sleep in the wet yard.
Next morning we answered nature's calls naturally and wondered about the breakfast. A stranger overheard us and suggested that a few miles down there was a breakfast joint. We packed and hiked in the direction that he indicated. We chatted about the girls in our class. Another stranger clapped and stopped us and asked us to join him through a shortcut to the food joint. Since we were not sure of his words, he decided to go alone and disappeared. My superstitious friend Bhiru suspected this man to be a ghost and narrated numerous stories on how evil spirits seduce young boys in the forest. He also had a remedy; he asked us to pee in a circle on the ground and hold the knot of the sacred thread (a.k.a. yajnopavit) in the right hands. For many years afterward we made fun of him, but the truth is that we all had believed him!
The sun came up; we were hungry and tired. We washed ourselves in a pond and even drank the muddy water. We wanted to look around for wild fruits, but were extremely scared of venomous snakes and ghosts. Then the same man who had directed us to food joint came behind us and said "I was afraid that you may have gotten lost in the forest, and came looking for you. Come with me. Dosai (Indian pan-cakes) and hot tea are ready." Apparently he himself was the owner of the food joint! The dosais were so delicious that instead of quenching our hunger, they increased it! We thanked him wholeheartedly and paid him. By the time we reached Mavingundi, our feet had blisters on them. We took an afternoon nap on the veranda of a temple.
"The British ruled area was in pitch dark while the area belonging to Mysore kingdom was illuminated like we had never seen"
When we woke up, it was already dusk. We wanted to spend the night there, but there was no electricity nor food. In those days the Sharavati river separated the British province of Bombay presidency from the Mysore Kingdom of Wodeyars. The Mysore bungalow was illuminated with bright lights like we had never seen, thanks to the efforts of the great engineer Vishveshwariah while the British area was drenched in darkness. We had heard that after dark, we could not go to the Mysore bungalow. So we hurriedly crossed the river to see the Jog Falls. We watched the waterfall in the colorful lights for hours. It was spectacular. We ate barley balls (raagi-mudde) and sambar (spiced soup) in the canteen of the electricity board and slept on the veranda of a school.
© K. L. Kamat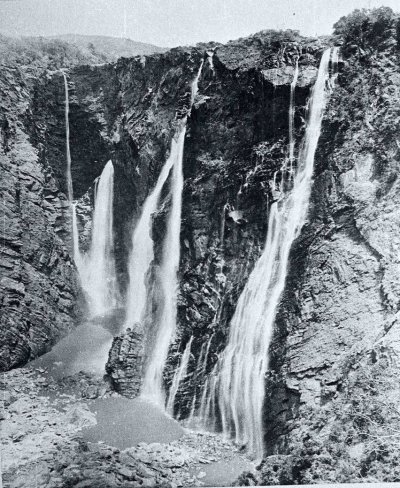 Next morning we went down to the place where the water fall meets the ground and played in the water to our hearts content. As we got hungry we decided to come up the hill, but could not find our clothes! Helplessly we hiked all the way up in wet underwear where a group of girls made fun of us and said in Marathi that they hid our clothes in the bushes down the hill. We cursed them in the choicest of the words and climbed down to retrieve our clothes. We wanted to return the favor, but girls were not getting into the water!
We returned after one week of adventure travel and sightseeing to Honavar. We had each spent seventeen Rupees.
Soon birthday will arrive, but due to circumstances we cannot be together. I am writing this childhood memoir for your entertainment, and so that we can share our lives at least through letters.
Sincerely yours,
Krishnanand

See Also:
Opinions are that of the author only. Translated from Kannada Letter, First Published as Preyasige Patragalu, Manohara Grintha Mala, 1991