Draupadi's Marriage
First Online: May 29, 2000
Page Last Updated: May 09, 2017
The story of Draupadi's marriage, from the Hindu epic of Mahabharata is like none other. Draupadi (a.k.a. Drowpadi and Panchali) may be the only celebrated bride among all the classics of the world to have multiple husbands simultaneously. Yes. Five of them!
© K. L. Kamat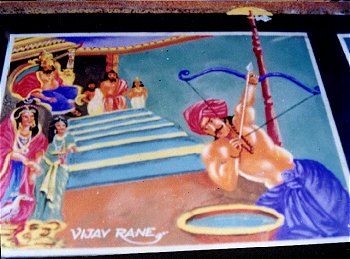 Contest to Marry Draupadi
Temporary Floor Painting of Rangoli
The Wedding
King Drupada could not find a suitable groom for his princess Draupadi and arranged a contest (Swayamvar) to find the sharpest shooter of the time. Bachelors from all over contested in a grand ceremony, but it was Arjuna, the master of the bow and arrow who won it. It is said that he brought the bride home and hollered to his mother Kunti --"Mother, look what I have brought!". The unassuming Kunti is said to have replied, "Whatever it is, share equally among your brothers!". Those were the times of going by the words and Draupadi was blessed with not one, but five brave husbands, the Pandavas.
The Humiliation
According to the story, even the five husbands could not protect Draupadi's honor when she was humiliated in an open court by Dushasana, the second of the Kauravas by stripping her saree. Draupadi had to pray to Lord Krishna who provided her with a never-ending drape.
© K. L. Kamat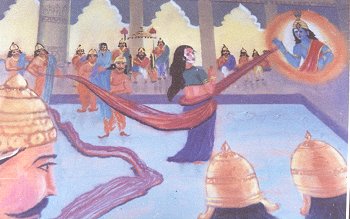 Divesting of Draupadi
from a Rangoli Painting
Time Sharing at its Best
The five brothers agreed by consensus to spend time with Draupadi by taking turns, the eldest one, Yudhishtira being the first. Draupadi bore five sons, one from each of her husbands in five consecutive years. Some of the Pandavas were to take in additional women as their wives later, but Draupadi remained the favorite queen.
There is one occasion when Arjuna forgot his weapon in his brother's house and had to interrupt an intimate moment. He was punished according to the covenant the Pandavas establish.

See Also: