The Gudigars of Kanara
by Dr. Jyotsna Kamat
First Online: October 08, 2006
Page Last Updated: January 11, 2018
The world 'gudi' stands for temple in Kannada and 'gudigar' is temple artisan or craftsman. Earlier workers must have been employed by kings of Kannada dynasties in coastal regions and Goa. After mass conversions were undertaken by the Portuguese, they seem to have come down to Shimoga and Canara coast. They are versatile craftsmen. They carve, paint, sculpt and mould earth to prepare idols. They work on pith garlands and coronets and prepare trinkets. Earlier many well-to-do Gudigars owned land and were agriculturists. Later some excelled in Sandalwood carving, ebony and ivory carving. With depletion of Sandalwood growth and diminishing forest wealth they took to wood carving. Ivory carving is totally banned in India, because of the harm caused to elephant tusks with that, the most ancient and precious art came to an end.
K.L. Kamat/Kamat's Potpourri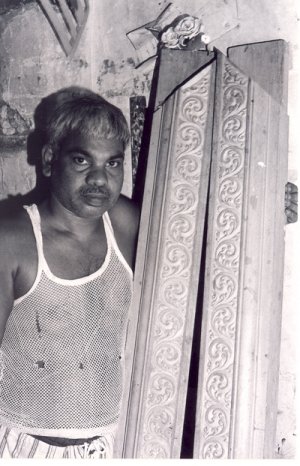 Artisan with a Carved Panel
Town of Honavar, Uttara Kannada
Sandalwood supply is also greatly diminished. The government is the sole owner and distributor of this rare wood species, sandalwood theft is rampant and the Gudigars do not get the minimum supply to carry on with their trade. They have shifted to inlay work on wood. Wall plates of gods, goddesses and rural scenes are created as decoration pieces. Ganesha continues to be the favorite deity in sandal-wood or marble small-wooden carved stools have demand at times.
The Gudigars are adept in preparing an idol of Trimurti, Lakshmi, or Saraswati. The Holy Cross and the Crucification of Jesus Christ is a favorite idol with Catholic devotees of Kanara coast.
K.L. Kamat/Kamat's Potpourri



preparing ornamental sticks
Art of Gudigars, Honnawar
The trinkets, masks and decorative pieces are much in demand during harvest festival, Shigma and Yakshagana. Jewelry boxes carved in sandalwood are in great demand.
The Gudigars claim Kshatriya heritage and wear sacred thread. They worship Viswa-Karma, the creator and other deities common to Konkanis. Their mother tongue is Kannada but they speak Konkani as well. Some of the gifted Gudigars like Vitthal Sheth and Samba Sheth are recipients of Rashtrapati Award for Master-craftsmen. The Gitopadesha scene in sandalwood presented by Nehru to president Eisenhower was a creation of Kumta-Honavar Gudigars.
K.L. Kamat/Kamat's Potpourri



Portrait of Gudigar Devidas Shet
Town of Honavar, Uttara Kannada, 1983
Devidas Shet featured in many of the photographs here was a friend of of Kamats. He faced hard days in getting raw material at Honavar and later shifted to Mumbai. He passed away some years back.

See Also:
The Arts of India -- The arts of India exemplify how life can indeed revolve around arts.
655