Havyaka Brahmins
by Jyotsna Kamat
First Online: September 05, 2004
Page Last Updated: January 11, 2018
See: Introduction by Vikas Kamat
Havik or Havyak Brahmins form an important section among Brahmin sects of North Kanara and South Kanara districts. They claim descent from ancient thirty-two Brahmins brought to his Banavasi kingdom by Kadamba king Mayursharma (345-360 A.D.). Originally they were from Ahicchatra in North India. These Brahmins were learned in Vedic lore and experts in performing 'havana' or oblations to deities and sacrifices. 'Havik' or 'Havyak' meant connected with 'havana' or sacrificial rituals. The belt they lived in Uttara Kannada district was also known as 'Haiva' or 'Haiga'. The king established a settlement (agrahara) for them at Sthanakundar (modern Talguappa), which fact is confirmed by inscriptions. It is clear that Haviks were masters of Havana rites. Different types of Havana or sacrifices were common, right from 'ganahoma' of laymen to propitiate Ganesha, to Ashwamedha sacrifice performed by kings after important conquests. Perhaps they enjoyed special privileges.
K.L. Kamat/Kamat's Potpourri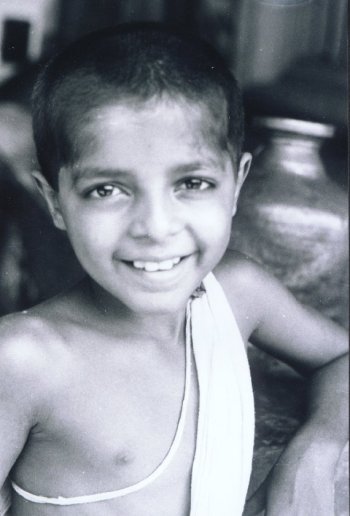 Young Brahmin Boy
The village of Kekkar, Uttara Kannada
Over the centuries, they became localized and adopted Kannada language, which today has retained its ancient purity after thousand five hundred years. They took to agriculture and horticulture and became experts in cultivation of coconut, areca, pepper and other spices. As population grew, they spread across Shimoga, Chikmaglur, and Kodagu districts as well. They became influential in political field and also cultivated fine arts. The Yakshagana folk theatre has been exclusively developed by Havyaks. Writing prasangas (episodes), music and dance came to attract this class. They make best Bhagvats (narrators, anchors) besides. The Yakshagana groups of Karki and Idugunji in Uttara Kannada are famous. Karki Yakshagana group which toured Maharashtra in the mid-19th century has the credit of inspiring Marathi theatre. In 1842, Karki Mela (group) performed before the Rajasaheb of Sangli (Maharashtra State), who encouraged court artists to learn from the group acting and singing. This laid basis for Marathi Professional theatre.
The first social play in Kannada was written by Suri Venkataramana Shastri in 1887. 'Iggappa Hegade Vivaha Prahasana' deals with child marriage and evils of incompatibility. There have been a good number of writers, singers, teachers, doctors, industrialists, scientists, engineers and executives that it seems, this small endogamous community is a pool of multiple talents.
A good number of youngsters have taken up Hindustani classical music and are responsible for revival and spread of this school in Bangalore and other cities like Dharwad which were earlier homes of Carnatic music.
During freedom struggle, Haviks community played a prominent part. Men and women took leading role in Salt Satyagraha and No-Tax Campaign. Women courting arrest with babes in arms makes a touching story. Dodmane Hegdes of Siddapur to which family, late Chief Minister Ramakrishna Hegde belonged, had an important role in freedom movement at all stages.
Special mention may be made of late Daivarata Sharma who is considered modern Brahmarshi (a sage who realized Brahma, the highest truth). He attained spiritual knowledge through penance and hathayoga, as prescribed in vedic scriptures. His work 'Chhandodarshana' is considered equal to Rigveda. Perhaps he symbolized two thousand years of Haviks scholarship! Dr. Rajendra Prasad, an Ex-President of India and himself a good Sanskrit scholar, paid special visit to Brahmarshi's ashram at Gokarn.
Most Haviks are followers of Ramachandrapur Math (in Shimoga district) and Svarnavallimath near Sonda (Uttara Kannada). Both the pontiffs, Shri Raghaveshwara Bharati Swamiji and Shri Gangadharendra Saraswathi Swamiji have identified themselves with social causes and are confirmed environmentalists.

List of Pictures

See Also:
Emerald Coast -- Articles and pictures of Uttara Kannada (North Kanara) district documented over five decades.