Sage Dayanand Saraswati
by Jyotsna Kamat
First Online: March 14, 2003
Page Last Updated: May 09, 2017

Swami Dayanand Saraswati's life and mission form a glorious chapter in the reformation of Hindu religious movement in the the 19th century.
Known as the founder of Arya Samaj, Dayanand Saraswatiji reminded his countrymen of the egalitarian approach of the Vedas. He said that the smrutis and puranas misled people into such practices as untouchability, and exploitation of women. He was primarily responsible for reviving the ancient Indian educational system of gurukula, where students from different strata of the society studied together under one guru without class, or caste discrimination.
Saraswati forcefully argued that there was no untouchability in the vedic times and a panchama (the fifth caste) is a much later, imaginary creation. All Aryans were equal, and had to undergo disciplines or samkaras as laid down in the shrutis, like upanayana (the ordaining ceremony, a.k.a. munji) , which was essential for women also. He propagated these reforms at a time when not even 2% of women in India were educated, and most of North India practiced the purdah (veil) system.
Dayanand Saraswati's greatest measure was to convert people from so called lower castes and non-Hindu religions into the Vedic religion. A purification (shuddhi) ceremony was performed in the presence of enlightened leaders and a congregation (samaj) and the person became an Arya! The person had to take a solemn oath to honor the vedic values.
This simple, but authoritative -- for Hindus vedas are the highest authority, being known as the shruti or oral revelations; the smrutis or written codes are always of secondary importance -- mode of conversion attracted many Christians, and Muslims whose roots were in Hindu tradition. Many opted to come back to their former religion - incurring the wrath of Christian missionaries and Muslim clergy. It also annoyed Hindu conservatives, who did not want mlechhas into "pure" Hindu fold. So Dayanand Saraswatiji had to face opposition from every front.
V.N. O'key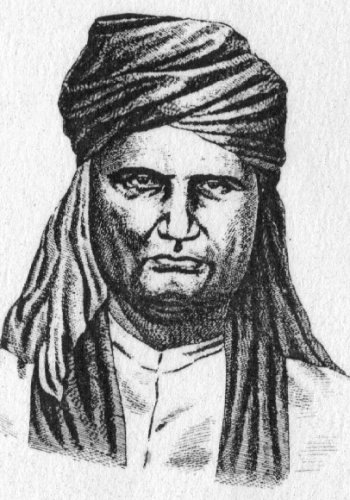 Maharshi Dayanand Saraswati (1824-1883)

Childhood and Initiation
Born as Mool Shankar Tiwari to a pious Gujarati couple in 1824, Mool Shankar had an inquisitive mind, and a compassionate nature from his childhood. Once on a Shivaratri festival day, which is observed by fasting and keeping awake the whole night in obedience to Lord Shiva, he saw a mouse dancing on the Shivalinga idol. He tried to find out from elders why this "God Almighty" could not defend himself against the menace of a petty mice, for which he was rebuked!
The sudden death of a favorite uncle, and his beloved sister caused much turmoil in Mool Shankar. He became quite detached from the world, and one day left home, incognito in search of a guru.
The search was long and arduous. Finally, at the age of thirty-six he found his mentor in Virajananda Saraswati, who was blind, but was a master of the ancient lore. The training was rigorous, and the guru was ruthless. But here was a disciple of a lifetime. As the teacher's fee (gurudakshina -- also has a sacred connotation in Hindu thought; it cannot be denied) he wanted his student to devote his life for the revival of Hinduism. The guru called him Dayananda.
Reforming India and Hinduism
Unlike many of his contemporary socio-religious reformers of India, who were influenced by English education, Dayananda's roots were based firmly in Sanskrit lore. "Back to the Vedas" -- was his call. He undertook a tour of the entire county, made fiery speeches condemning the caste system, idolatry, and child marriages. He advocated the ideal age for a girl to be between 16 and 24, and for men between 25 to 40. He established gurukuls in several places. He met a number of Indian princes and their native states and persuaded them to undertake social reforms. He founded Arya Samaj in Mumbai in 1875 to promote social service. He firmly believed that India's downfall had started the day women were deprived of education, and were put behind the veil.
Arya Samaj and the gurukul system of education started growing in Punjab, and other northern provinces. Swami Shraddhanand, a disciple, established the famous gurukul at Kangdi which over years brought out many Indian nationalists. Leaders like Lala Lajpat Rai and Ram Prasad Bismil proudly called themselves Arya Samajis.
Dayanand gave new interpretations to reform the stagnant Hindu thought through his book "Satyaprakash" (The Light of Truth). He profusely quoted the vedas and other religious texts to insist that salvation was not the only motto of a Hindu or Arya, as was believed. To lead a fruitful worldly life, working for a noble cause was important, and he preached that salvation was possible through social service.
Dayanand the Nationalist
Dayanand was great patriot. He advised the Indians to shed off their cowardice and hesitation. He felt that armed revolution was a worthy means to fight tyranny. He was instrumental in mentoring Shyamji Krishna Verma, who later patronized many Indian revolutionaries like Madanlal Dhingra and Veer Sawarkar.
The role of Arya Samaj organization in building modern India is as important as that of the Indian National Congress.
Death by Poison
Due to his radical thought, Dayanand had acquired enemies from all spheres of life. On the Deepavali festival day in 1883, he was a guest of the maharaja of Jodhpur. The king was a womanizer and Dayanand advised the king to lead a righteous life as a ruler, upsetting a mistress by the name of Nanhi Jan. That night the swamiji was poisoned during the festival meal. Around midnight, Swamiji had severe pain in the stomach and he realized that he had been poisoned. Though yogic powers he tried to throw up, but it was too late. He summoned the repentant cook and asked him to flee, because of the danger the news will cause the poor servant. Dayanand Saraswatiji breathed his last chanting "Om".

See Also:
Timeline of Hinduism -- Timeline of important periods in the development of Hindu philosophy, including important reformers, and movements.
Hinduism Potpourri -- Hindu mythology, point of views, pictures of deities, sages and stories.