Treasures of Mahabalipuram
First Online: October 28, 2006
Page Last Updated: January 03, 2018

Mahabalipuram is a town Indian state of Tamil Nadu, important for the art and architecture of the remnants of the glory days of Pallava period. The monuments are rock-cut and monolithic, and constitute the early stages of Dravidian architecture.

Mahabalipuram is believed to have been named after the Pallava king Mamalla, and sometimes referred to as Mamallapuram in period literature. It has various historic monuments built largely between the 7th and the 9th century, and has been classified as a UNESCO World Heritage Site.

The most famous of the art of Mabahalipuram is a relief depicting "The Descent of Ganga". In an area spanning about 100 X 50 feet, the essence of the great story of Descent of Ganga so glorified in Indian mythologies, has been brought to life. It features myriad of creatures, and men -- their life before and after the arrival of Ganga.
The following are some photographs depicting the art and architecture of Mahabalipuram.
V.N.O'key/Kamat's Potpourri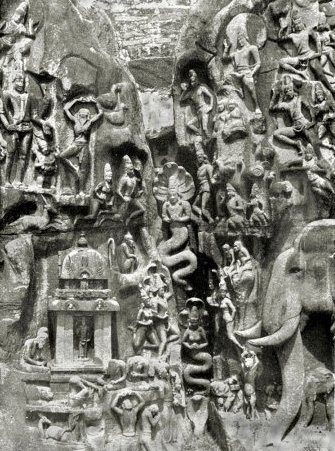 The Descent of Ganga River
Sculpture from Mahabalipuram in Tamilnadu

V.N. O'key/Kamat's Potpourri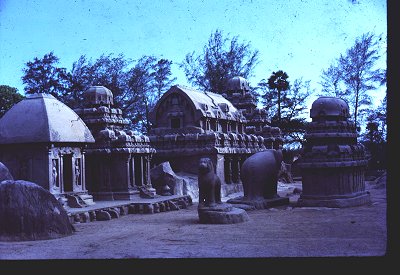 Pavilions and Sculptures of Mahabalipuram


V.N. O'key/Kamat's Potpourri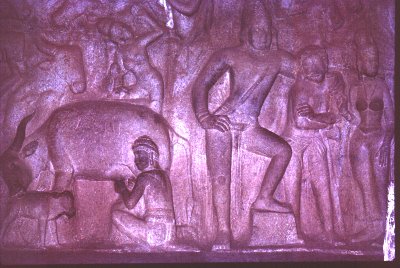 Detail from Relief, Mahabalipuram
Govardhana Cave sculpture,Pallava period, 7th century

V.N. O'key/Kamat's Potpourri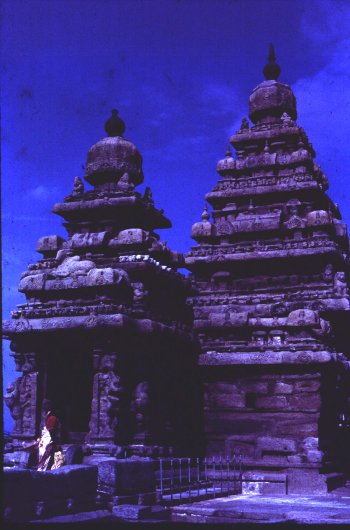 Shore Temple, Mahabalipuram
Built during the rule of Pallavas, 7th century A.D.


See Also: