The Fruit of Ram (Ramphal)
First Online: December 03, 2010
Page Last Updated: January 11, 2018
Rama's fruit (a.k.a. Ramphal) is an exotic fruit of India, harsh from outside and creamy from inside. Sometimes known as "Custard Apples", it is use to make summer delicacies and ice-cream. The bark and shell of the plant is used in home-made medicine.
K.L. Kamat/Kamat's Potpourri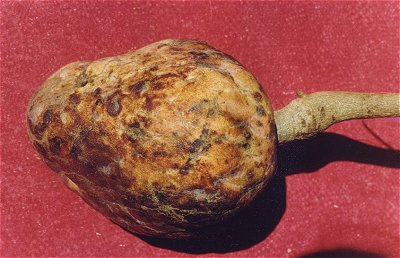 The Fruit of Rama
See Also: The fruit of Sita

See Also:
Fun with Vegetables -- Kamat's lust for life is reflected even in the vegetables he buys! Pictures of common and uncommon vegetables of India.