The Chhau Dance
by K. L. Kamat
First Online: September 08, 2001
Page Last Updated: January 11, 2018
The Chhau (pronounced Cho) dance is performed in parts of West Bengal. The distinguishing feature of this dance drama is the skillful use of masks and costumes, supplemented by the right tempo of music. The actors are poor and illiterate peasants. The performances are held annually at a festival of the sun god. It is a heroic dance performance of the men, the women having an insignificant role in it. Moreover, women's roles are always played by the men wearing women's masks.
The performances commence late at night and continues till dawn. It is an open air dance at ground level without any raised platform or enclosure. Twenty square feet area is demarcated for the performers and another five feet corridor for the entrance and exit of the actors. The drummer performs in a circular area located adjacent to the stage. Men and women audience are seated separately, the later being provided with a raised platform.
© K. L. Kamat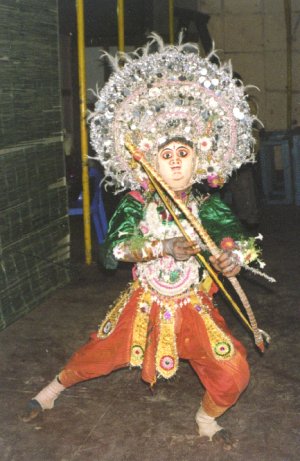 Folk Dancer from Bengal Performing the Chhau Dance

The costumes used are made out of locally available inexpensive materials. The actors representing gods wear light colored trousers, whereas deep colored and striped ones are reserved for the demons. Lord Shiva put on a loin of a tiger's skin and his son Ganesh with a dhoti. Kali wears tight trouser of jet black cloth. The actors who portray ascetics, sages and brahmins wear dhotis of saffron color. The main characters wear embroidered jackets manufactured by the local women. They are beautifully designed by using silk thread, tinsels and artificial pearls.
All the characters appear in their appropriate masks. These facial masks are manufactured mostly in the famed village in the Purulia district of West Bengal. They are very artistically manufactured by the artisans, well-versed in Puranas, by employing simple tools and inexpensive ingredients. A clay model is designed on which paper pieces are pasted and on this layer rag is attached with river-bed clay. Then it is polished with a delicate wooden chisel, followed by removing from the mould and drying the sun. The gods and goddesses wear star-spangled facial masks seated with feathers and jewels. Ravana, Mahishasura (the buffalo headed demon) and other Rakshasas wear grotesque masks.
At commencement of the performance a very brief invocation to Lord Ganesh is sung. The music has devised from the tribal practice and traditions. The drummers dance as they play on their drums and reproduce similar sounds vocally. At times blowing musical instruments are also used. The drums, "dhamsa" and "dhol" slung from the shoulders and played with a stick and fingers. These instruments have a lion's hare in production of background music. Jumping, kicking, cavorting does not hinder their music. Spontaneity and vigor are the soul of this dance. The responsive audience is the inseparable part of the dance-drama of Chhau.

See Also:
Sonar Bangla -- Kamat's controversial travelogue of West-Bengal; pictures, cartoons, letters and interviews.
Indian Masquerade -- Masks from various parts of India