by K.L.Kamat
First Online: August 06, 2001
Page Last Updated: January 03, 2018
Gundabala is a small village, located thirteen kilometers east of Honavar, in Karnataka state, India. It is situated on the banks of the Sharavati river whose natural beauty has remained undiminished over the centuries. A sailboat ride from Honavar harbor to Gundabala in moonlight is an experience for lifetime!
An Italian world traveler, Pietro Della Valle took similar travel in the Sharavati River on 14th October, 1622 and has left behind very interesting account of his journey. River Sharavati is also known as "Baraganga" or "Gerusoppa River." At the mouth, where it joins Arabian sea, it narrows into a channel about 300 yards broad, outside which lies a formidable bar. Between Honavar and Kasarkod the river is about a mile broad and looks more like a lake. Five miles up stream from the mouth it forms a lagoon, about two miles broad and contains a few islands. the largest among them being "Mavinkurva" which is more than three miles long and studded with coconut palms and mango trees.
Pietro Della Valle claims that in his life he never undertook such a delightful sailboat ride that took him from Honavar to Gerusoppa, covering a distance of eighteen miles. "High rise mountain peaks, low laying valleys, are all covered with lush greenery and extremely pleasant to look at. The trees are tall and densely grown. Rice cultivated land is interwoven with flower bearing trees and their shadows in the river, give an impression to the passerby that the nature is extending them a warm welcome. There are innumerable creeper and epiphytes and have taken shelter on these big trees. Colorful birds are busy in construction of their nests in the trees so as to raise their families. Several fresh water springs flow from the mountains and join the river. Their water is crystal clear and devoid of any impurities".
The name Gundbala is derived from gundi (depth) bailu (land). A major steam, "Gundbala Halla (creek)" joins the Sharavathi River and large sailboats use to reach up to Gundabala. In the medieval times, black pepper used to be exported from this region. It is a historical place during the Kadamba rulers. The Padmavati and Durga temples of the period are located here. Jain basadis and inscription of the period are scattered all around . An unique inscription dated 1143 A.D. gives genealogy of the Kadamba kings starting from Chandra to Mallideva second, ruling from Sisukli. Round about places like Kadkal, Janna, Chikili, Hirebillu have dilapidated temples.
© Vikas Kamat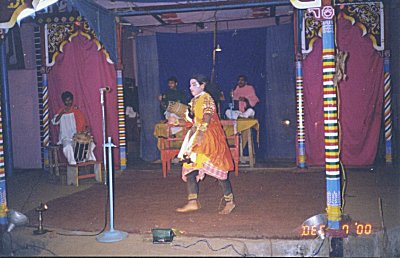 Dancing All Night Long for the Gods at Gundabala

The Hanuman temple at Gundabala is very influential in the area and the followers visit during Magha Suddha Dashmi and Vyshakha Suddha Dashmi. The presiding deity is believed be very fond of "Yakshagana" performances and devotees arrange them in devotion. They are commenced after Dasara festival in October and continued till commencement of Monsoon rains in the first week of June, every year. The temple premise has a permanent "Chauki" (green room) and a "Rangasthala" (pendal) for the purpose. The temple has its one troop which performs everyday. Some special two performances are given simultaneously and hence outside troops are also invited. A owed performance is to be booked at least five years in advance! It is strange that this sleepy town is awake when whole world sleeps!!

See Also:
Appeasing God -- An insider's guide to understanding the elements of devotion and faith in India; includes details of what the devotees do to earn divine favors.
Emerald Coast -- Articles and pictures of Uttara Kannada (North Kanara) district documented over five decades.