VeeSee as a Source of Inspiration
by K.L.Kamat
First Published in Kammatiga Volume, 2003
I've been influenced by V. Sitaramaiah's book "Pampayatre" since I was a boy. Sitaramaiah (pen name: VeeSee or ViSi ) had an eye of an artist and heart of a poet. When I went to visit the Jain temples of Gerusoppa, the pages of Pampayate would appear in front of my eyes. When I visited Haduvalli, I would imagine how VeeSee would write the travel experience. I dreamt of meeting VeeSee, but there was no opportunities for a school boy in a rural town to meet with a genius living in Bangalore.
Then in 1954, I was overjoyed to learn that VeeSee was going to be the president of All India Conference on Kannada Literature to be held in Kumta. Even though Kumta is only twelve miles from my town Honavar, there was no convenient transportation to go and come. So I used my family's influence to stay in Kumta for the three days of the conference. My main desire was to meet VeeSee and take his photograph.
I was a mere student, and had no camera. However, I had access to a camera in my school that I had taken leadership to raise funds and purchase. I pulled out my savings for film and the thought of photographing VeeSee itself was a very exciting experience for me.
The room I was staying in Kumta was very close to the conference venue and I didn't move away from the window waiting for VeeSee. At 9 o'clock in the morning, an elegant and graceful man with his Mysore peta (turban) and clean clothes was walking with Gourish Kaikini. It was obvious that he was VeeSee. And my joy knew no bounds. I quickly grabbed my breakfast and ran to Gibb High School, where the conference had already begun. I couldn't understand most of the literary discussions, but I was proud that I was a participant in scholarly event, and I took a front row seat.
I was alert to photograph VeeSee, but the time was running out. I had no flash, and box camera required 100% sun falling on the subject's face. There was no way I could take pictures on the stage or when he was speaking. I spent the whole day waiting.
The second day, the heat of Karavali was very intense, and VeeSee had taken his dress down by removing his turban and coat. I was disappointed at this because my photograph would not feature them. When he stepped out for lunch, I pounced on him, and asked if I could take a photo. "Sure, of course!" said he, and posed right in the ,middle of the street in hot burning sun, just like I wanted! I was in paradise.
K.L. Kamat/Kamat's Potpourri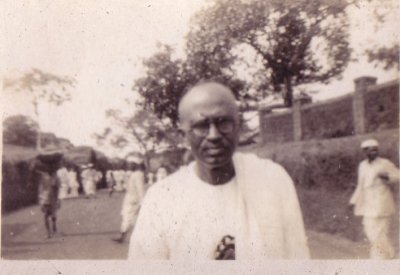 Picture of V.Sitaramiah
Kannada writer and scholar, Kumta, 1954
I was overjoyed at my success. Shivaram Karanth was approaching; I asked him to pose as well. Karanth was holding "Honeydew" brand of cigarettes. He said "I don't want this in the photograph," and hid it behind him. Then I photographed A.N. Moorthyrao, Gopalakrishna Adiga, and D.R. Bendre at the same location.
Although my box camera did not do justice to my enthusiasm, the photographs taken on that day are the dearest to me. I've carried those photographs everywhere I have traveled last forty four years. So one can imagine my attachment to them.
Even though I was interested in literature, I never wanted to be a writer. I didn't even write essays or poems when I was a student. But, when I got an opportunity to write a travelogue about America, I had no dilemma on whose style I had to imitate. Without my knowing, VeeSee had become my inspiration. Many critics of this book have recognized my style to be similar to VeeSee's. My book became very popular and sold eleven editions. Since then I've written five other travelogues. One day, if someone studies my travelogues deeply, I will not be surprised if they discover similarities between my style and VeeSee's.

See Also: