Kamat's Scientific Photo Lab.
Kamat's Contribution to Science
First Online: February 19, 2003
Page Last Updated: November 01, 2016
K.L. Kamat (bio-data - tributes) the principal creator of Kamat's Potpourri, ran a small business in the neighborhood of Malleswaram (topics) in the city of Bangalore from 1970 till 2002 when he passed away. It was called Scientific Photo Lab., and he served the scientific community of Bangalore with their photographic needs.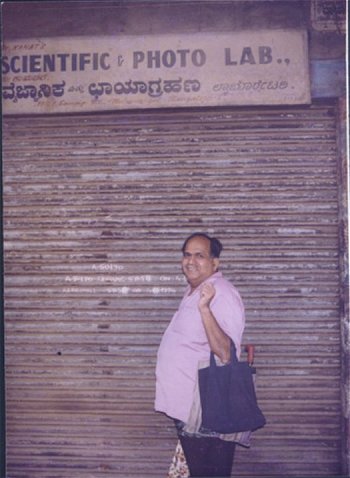 Kamat in front of his Scientific Photo Lab.
We've created this page on the occasion of his first death anniversary to remember Kamat's yeoman's service to advance science in India.

Kamat also wrote widely in local magazines about animals, environment, and ecology in the Kannada language to raise the awareness of the population. His books Prani-Parisara (Animals and Environment), Iruveya Iruvu (on Ants), Keeta Jagattu (World of Insects) are first books on the topic to appear in Kannada.

A Photograph of the Gelatin Bands


Photograph of a Test Result



Gelatin Bands


See Also: