Amma's Column

Fishermen throughout the world are known for adventures. Since they have to face rough weather on mid sea at times, all of a sudden, their presence of mind and boundless courage saves them from grave situations. Konkani fisher folk known as Kharvis who reside in Coastal districts of Karnataka are no exception. Since ancient times, they are exposed to unpredictable rough fury of nature. The adjoining land is also not as fertile as the plains. This rocky strip of land is inhabited by people of various fisher folk castes, who try to eke out a living are sandwiched between Sahyadri mountain range and the Arabian Sea. However the sea provided varied and plentiful fish, most part of the year. The Kharvi fisher-folk are a brave and god-fearing community who speak Konkani language. They used to be expert boat-builders as well. They built strong warships and mercantile ships which competed with Arab dhows.

Boats sailing on Sharavathi river


Karnataka state has three hundred and twenty three kilometers of sea-coast. Fisher-folk are divided between Kannada and Konkani speaking communities and they do not interact. In a caste-ridden country like India, each caste-people develop their own culture and leave behind a tradition of typical rituals and practices. Kharvi fishermen work on sea and in saline water. "Kshara" or salt in Sanskrit has a derivative word Khara in Indian languages. Hence the term Kharvi perhaps applied to fishermen who went fishing in salty water. Nowadays the nomenclature is wider. Since Khavis speak only Konkani language, there is every possibility that they escaped from Konkani state of Portuguese Goa, to avoid forcible conversion to Christianity in the sixteenth century. Kharvis are devout Hindus and worshipers of several deities. But interestingly they, mainly worship Durgamata or Sakti (Primeval power) who, as Goddess Almighty has precedence over all other gods! They also worship Siva husband of Shakti, their Son Ganapati and God Vishnu in his different incarnations.
Boats of different dimensions, tubs, varied types of nets, oars and bamboos form main tools of Kharvis.
Earlier nets to catch fish were woven from strong fibers obtained from barks of certain forest trees. These days nylon nets have come handy for them, who put in endless hours in weaving and mending. Similarly small boats sail to catch by hook, or hand-nets.
Nowadays technology has made room for mechanized boats launches and percins.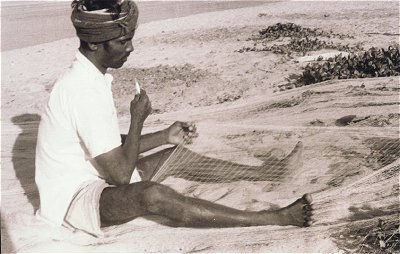 Rampani or Maribale the huge net required the service of a hundred people which hauled tons and tons of sardines and mackerels during the season. Trawlers, nowadays net in fish with the help of five or six people. Percin boats go far and deep in the sea and managed by twenty-twenty five members. Big boats haul in mixed fish which requires big team to sort out edible fish like Surma, mackerel, sardine, small shark, hook fish, Saundale, prawns and others. Other non-tasty fish goes as chicken-feed. Unedible varieties form good manure. "Kawan" are sheds to store dry-fish and beaches are used to sun-dry the huge quantities of fish.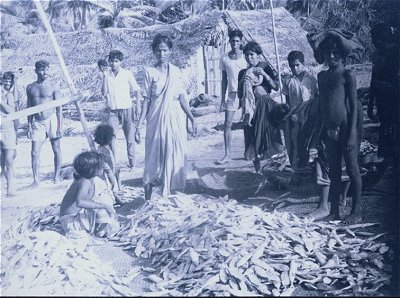 Some fishermen are not lucky to have lions share of Rampani netting or trawler-catch. But they are happy to catch enough fish for evening dinner, oaring their way on quite-flowing Sharavati and sell in baskets on the shore.
First Created: Friday, February 11, 2011
Last Updated: 4/17/2011 10:49:16 AM