Shown above are two similar pictures. One is a photograph, and the other is an illustration prepared based on the photograph.
In the illustration, the artist has simplified the mood of the model. The fewer lines and lesser clutter emphasizes the the subject.
© K. L. Kamat

The photograph, in this example doesn't seem as dramatic as the illustration, but exposes details of her tattoos, metals of her jewelry, and provides authenticity.
© K. L. Kamat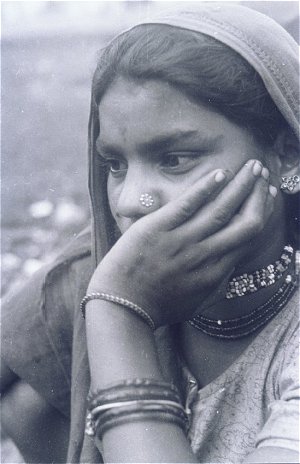 Kamat was both an illustrator as well as a photographer, and once someone asked him what's the relationship between the two.
Kamat replied that a great photograph is one that looks like a painting, and a great illustration is one that is mistaken for a photograph! Of course, it is a view that certainly requires review and discussion.
Sometimes, the publishers of content dictate the art form. Line drawings made in India ink can be printed inexpensively whereas mass-printing photographs is much more expensive. There still are many publications that do not accept photographs to accompany text and the authors are requested to submit illustrations only.
Even in the electronic world, the illustrations have their own charm and value. The illustration shown above, for example is 30% smaller in its size of storage and would download 30% faster than its photographic counterpart.
See Also:
• India in India Ink -- Line Drawings

First Created: Tuesday, October 1, 2002
Last Updated: 10/1/2002
Tags: Illustate