© K. L. Kamat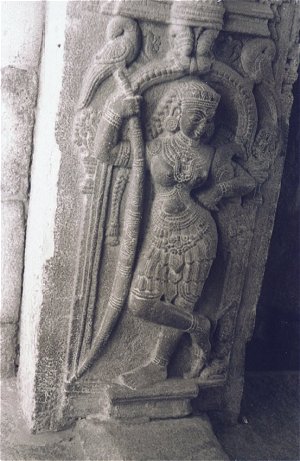 Sculpture from Kolaramma Temple
Kolar, 10th Century A.D.

Today, let us study this photograph taken from a tantric temple in India.

The lady is posing with a bow. What is the sculptor trying to depict? A huntress? perhaps a goddess?

Notice the long braided hair, the designs on her shorts (?) and her jewelry. Is it possible that they depict period attire? Do notice that the figurine is not wearing a blouse, her breasts are exposed, albeit covered with jewelry.

The pose is seductive (hence tha title of this blog). Do appreciate the curvatures the artist has painstakingly carved in stone.

Finally, there are not many art forms, certainly not photography -- the film, the pigments, and the chemicals decompose in time -- that last this long. But this fine contibution of an anonymous artist (probably under the royal patronage of the Ganga kings) has withstood the test of time, invasions, and other disasters.

See Related Links:
• Topics on Tantric Cults and Practices
• Architecture of Medieval India
• Indian Attire Through the Centuries
First Created: Friday, October 4, 2002
Last Updated: 10/4/2002