The Poor have Nothing to Offer

Those who have, will build a temple
What can I offer, a poor thing?

I offer my feet as the columns, my body as the sanctuary,
And my head, as the towering golden dome, my Lord!
The poor thing has nothing to offer.

- Basavanna, a 12th century revolutionary and sage
  (Translated by Vikas Kamat)

© K. L. Kamat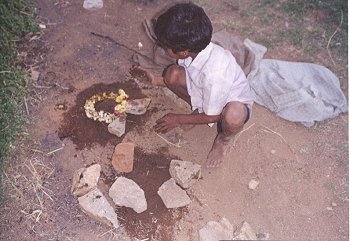 A boy plays the game of "Building a Temple" on the street
Every time, I come across this picture, the above song ("Nanenu maadali, badavanu ayya" by saint Basaveshwara) reverberates in my ears. When the photographer asked the homeless boy what he was doing, he replied that he was playing a game of "Building a Temple". You can see the stones, dirt, and flowers. He is even trying to re-enforce the walls with a mixture of dirt and water!
After the picture was published (as part of Children of Asphalt), we received a number messages admiring the spirit of the boy, and the spirit of the moving photograph.
"The fact that children growing up on the streets of India play games involving temples and gods is mind boggling" one woman told us.
First Created: Monday, October 21, 2002
Last Updated: 7/2/2009 11:04:27 AM