© K. L. Kamat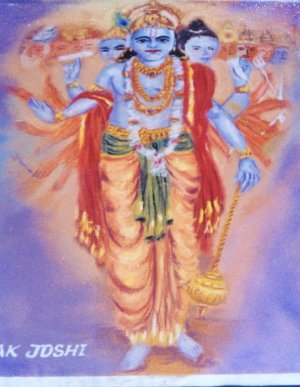 When God Revealed Himself
The God stood displaying
All the splendor, wonder, dread
Of His vast almighty head.
Out of countless eyes beholding
Out of countless mouths commanding.
Countless mystic forms enfolding,
Countless radiant glories wearing.
Countless heavenly weapons bearing.
Blinding brilliance overspreading,
Boundless, bountiful, beautiful,
So he showed like a sunburst of a thousand suns.
Poem by Edwin Arnold
Rangoli Painting by Trimbhak Joshi

See Also:
• Girl Practicing Rangoli Art
• Bhagawad-Gita
• Vishwarupa of Lord Vishnu

First Created: Tuesday, November 12, 2002
Last Updated: 11/14/2002
Tags: duet