© K. L. Kamat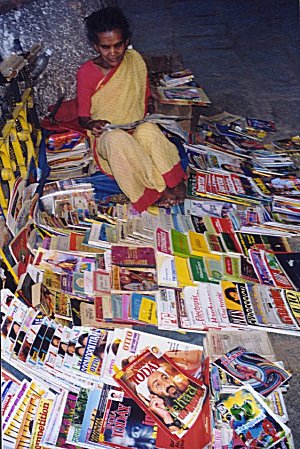 Woman Selling Used Magazines by the Roadside
Picture taken by Kamat in the locality of Malleswaram in Banglore, December 2001
In February 2002, the photographer noticed for a few days that the woman in the picture was not selling magazines anymore, and her spot was occupied by a different, younger woman. When inquired, he was told that Dhanushkoti, the woman shown in the photograph had died, and her daughter-in-law had taken over the roadside business. Kamat then printed a copy of the only photograph of the woman and gave it to the family.
As destiny would have it, a couple of days later, Kamat himself passed away.
And we do not have even one photograph of Kamat working in his shop.

First Created: Wednesday, January 29, 2003
Last Updated: 1/29/2003