Chakra - Circles of India - Table of Contents
First Online: April 1, 2001
Page Last Updated: January 10, 2018
Chakra (from Sanskrit) -- a wheel, a circle, a disk, an infinite loop, center of energy, Lord Krishna's weapon.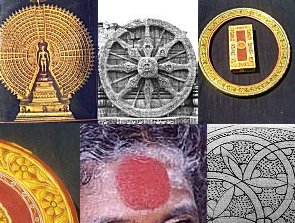 Indians invented the zero. They might as well have invented the wheel*, going by the prehistoric cave paintings found in central India that depict carts and potteries. A Chakra decorates the Indian national flag, and it was a humble spinning wheel what symbolized India's freedom and self-reliance.
Here's a pictorial exhibition to mark India's greatest contribution to mankind and mankind's own greatest invention. Circles of India depicts the role of the the circle in Indian folklore, sculptures, mythology and history.
-Vikas Kamat

List of Pictures
See Also:
Temples on Wheels -- the chariot festivals of India
/rd/?goto=www.amazon.com/exec/obidos/external-search?tag=kamatspotpourri&keyword=Chakra
* most sources attribute the origins of the wheel to Mesopotamia.