Lost and Found at Kamats!
First Online: November 01, 2004
Page Last Updated: January 03, 2018
Kamat's Potpourri website is read by millions every month, and has provided as a bridge for a number of people to find long lost friends, long lost photographs, and long sought information.
So by popular demand, I am starting this Lost and Found section.
-Vikas Kamat

First, I have my own Lost and Found Story
I once wrote (see Destiny's Games ) that "we do not have even one photograph of Kamat working in his shop."
Then Dr. Somashekar, a customer of my father in 1972, sent a photograph that he took. It is autographed by my father and is a treasure.
Now we have a photograph of Kamat sitting in his shop.
It is a treasure because how many customers in a photo studio photograph the photographer?!
K. Somashekar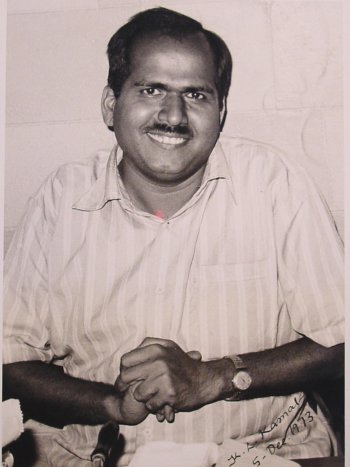 Photograph of Kamat in his Lab. taken by a customer
Photograph by Dr. K. Somashekar, 1973

Looking for Father's Relatives in Mumbai
Patron Joanna Rouanni is still looking for long lost relatives in India.

I am trying to find my father's family or any relations or friends in India. My father was born in India on 1st January 1932. His full name was John Osmund Spencer. I believe his father was English and his mother was from India. I know this will be like trying to find a needle in a hay stack , please if anyone can help contact me at rouani@gmail.com.