Come to Golden Sands of Goa
by Sushama Arur
First Online: December 21, 2004
Page Last Updated: January 03, 2018
Goa has always attracted the people from home and abroad because of its beaches and fun-filled lifestyle. Recently, its capital city Panaji has become picture perfect to host the popular IFFI (International Film Festival of India) in the festive month of December in 2004. Goa is one of the most popular tourist destinations.
Goa has a 105 km long coastline with 40 beaches that attracts the tourists in great numbers. Tourism is a major industry here. On an average a million people visit Goa annually. It is a delight for the swimmers, water sport buffs, and sunbathers. It has some of the best preserved mangroves, probably the largest king cobra habitat, some of the grandest temples and breathtaking panoramic view.
Brief History
Goa is one of the smaller states in the Indian Union, known as Gomant or Gopakpattana. In Kadamba times it was called as Gove. It was Vasco-da-Gama who discovered sea route to India in 1498.The Portuguese expeditions followed suit. In 1510 Alfonso Albuquerque captured Goa from the Adilshahi ruler. Panaji was made the capital in 1843.The Portuguese territory of Goa. Daman and Diu was finally liberated by India on Dec19th 1961.Goa became a State of the Indian Union on 30th May 1987.Daman and Dui was separated as a Union Territory.
Temples and Churches
Goa has many beautiful temples. Some of the temples are as follows- Shri Shantadurga temple, Kavalem, Mangeshi temple, and Mahalakshmi temple at Mardol, Sapteshwar Bhagavati temple, Kamakshi temple Shiroda, Mahalasa Narayani temple Mardol, Laxmi Narasimha temple Nageshi, Ramnathi temple Ramnathi, Partagali and Kavalem Samsthan etc. The last two are the oldest maths of the Saraswat community whose religious heads of the math reside.
K.L.Kamat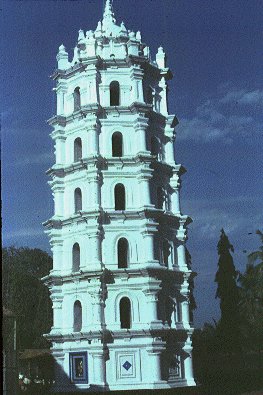 Mangeshi Light Post, Goa

Goa is famous for its magnificent churches too. To name a few famous ones are Basilica of Bom Jesus, Our Lady of Rosary, The Rachol Seminary, The Se Cathedral, Francis Xavier Church, Chapel of St Catherine, Church of St Cajetan, and Chapel of St Anthony etc. Francis Xavier is the patron saint of the Christians called fondly as `Goancho Saib' by the local Christians, who is buried in the Xavier Church. His "incorruptible body" is taken out once in every ten years. This year in December 2004 the "exposition of the relics" will be done.
Goan Tourism
Tourists flock to Goa mainly for its beaches. Calangute, Baga, and Anjuna belt found in the north of Panaji have calm and serene beaches. Calangute is considered as the Queen of beaches. The local vernacular name might have been `koligutti' land of fishermen, "konvallo ghott" meaning the strong pit of coconut trees, which are found in abundance here. Adjacent to the beach is a village known as `Maddavaddo' meaning the area full of coconut trees. The hippies made this beach popular. Many foreigners come in search of idyllic coastal Goa to spend their summers, bathing in the bluish green sea, blazing sun and golden sand. This place is always crowded.
Colva on one side and Calangute on the other, with their respective white and glassy orange brown sands provide the solace that longs for during a holiday. It's a fishing beach. The green palm groves on the outskirts of the beach make the place simply beautiful.
Corel Professional Photo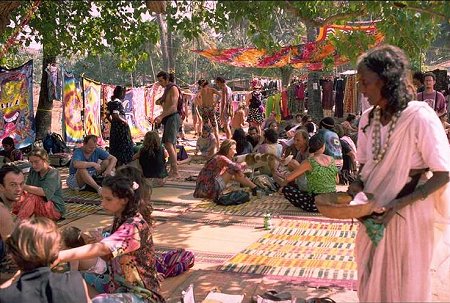 Anjuna beach is known for its full-moon parties, trance parties made popular by the hippies. Baga beach is another tourist hangout. Holidaymakers are seen frolicking in the sea or sunbathing. Wednesday Flee market is a great craze of the tourists for shopping. The other main attractions of this beach are Albuquerque mansion, Mascarenhas mansion in the typical Portuguese style and Chapora fort.
Miramar, Dona Paula, Bambolim and Siridao, are situated all in close proximity to Mormugao harbor. Miramar beach looks stunning with silvery sand surrounded by palm groves. The coast covers an expanse of two kilometers and is ideal for long evening walks.
Dona Paula beach is associated with a romantic story of Dona Paula de Menezes, daughter of a viceroy who threw herself off the cliff, when refused permission to marry a local fisherman, Gasper Dias. According to the local people Dona Paula is seen emerging from the moonlit waves. Tourists throng along the beach because of the myth attached to it but also for its sheer beauty. Lot of water sports is offered here. One can see tourists buying clothes and other seaside goods from the nearby shops.
The fort Aguada was built by the Portuguese to protect old Goa from the enemies. The fortification is around the shore with a lighthouse tower in the center.
The Goan cuisine for the fish lovers is amazing. Fish delicacies with coconut curry (gravy), fish fry with green masala (spice), red masala are very popular. Xakuti is a Chicken and meat specialty with coconut and cashew nut base. Vindaloo is a delicacy in meat, chicken and pork done in vinegar. Deserts are a great rage with bebinca made with egg yolks and coconut milk is rich and heavy, ale bele is a pancake with coconut filling, bulinos are coconut cookies.
Goans are fun loving people, true epicureans (eat, drink and be merry). They are used to a siesta in the afternoon. They celebrate both Hindu and Christian festivals. The most important festivals are Ganesh (worship of elephant headed god), Dussera ( worship of mother goddess), Deepavali( festival of light). Christmas and New Year are celebrated in a grand scale. Tourists flock at this time to witness Goa at her best.
Goa is a happy blend of Hindu and Christian culture. Tourists crave for Goan Fenny and fish on the sea beaches after sea or sun bathing.

See Also: