The History, Mystery, and Diversity of Kamat
First Online: February 09, 2004
Page Last Updated: January 10, 2018
by Dr. V.K. Deshpande, Dharwad (India)
While on a visit to the USA, during the year 2003 Dr. V.K. Deshpande came across Kamat's Potpourri website and quickly recognized that he had known Kamat for many years as a university student, but had lost contact. By then Kamat had already had passed away. Deshpande then fondly narrated many a incidents and stories of his interaction with Kamat. On the occasion of the second death anniversary of Kamat, Dr. Deshpande shares with us what he calls "The History, Mystery and Diversity of Kamat", and provides us a rare peep into Kamat's formative years.

-Ed.
Introduction
After going through "Kamat's Potpourri", I felt like filling some gaps in it, especially about Kamat's biography. I've known K.L. Kamat since 1957 as a college student, while studying B.Sc/M.Sc. in Karnataka University Dharwad and I was with him in Syracuse while he obtained a Ph.D. KL, as we called him went on to evolve as a great man, a great writer, a great photographer, and a humanist.
This is the story of Kamat, an incredibly talented man, not able to find a job in India, yet documenting India like no one else had done before him, and leaving behind a timeless legacy.
Many have written rich tributes to him (published on this website, and in the Kamat Memorial Volume Kammatiga), but I felt that no one has documented Kamat's formative years as a college student, and as a graduate student, and this article is an effort to peep into KL's history, mystery and diversity.
I have tried to trace KL's history --as a student coming from a middle class family, in small coastal town of Honnavar, traversing the Sahyadri Ghats to study at Dharwad, and then sailing overseas to Syracuse USA to do his Ph.D., and back in India for a brief stint as an entomologist, then finally on to Bangalore to settle down as a writer (1955--1965 and up to 1969).

I have tried to demystify the mystery of the man trained to become a naturalist, turning into an avid photographer, a bit of a historian, a sociologist and a keeper of his archives for posterity.

Then I want to write about the diversity of a scientist, analyzing the various facets of Indian history, culture, her people, their lifestyles, archeology, and anthropology, apart from his own world of animals and the natural environment of the Indian subcontinent, putting all these together in Kamat's Potpourri -- a priceless archive for the future.
History and Mystery of Kamat
I first met Krishnanand Kamat in July of 1957,when I joined Karnatak College Dharwad (KCD), to study Zoology and Botany. KL was in the M.Sc. program in the same department, and we used to attend some classes together. We became friends as we went on frequent study tours together, and shared some hobbies. We'd spend joyous times in canteen, and library. The sylvan surroundings of Karnatak College campus, with beautifully laid out gardens, ponds with fountains and colorful fish in the aquaria, modern laboratory and library facilities in those days inspired the young imaginative mind of Kamat. He was studious, had a good pair of surgical hands for delicate dissections, histological micro-technique, and mounting of specimens. He was the most sought after person by juniors like us, for help in drawings, and lab techniques, and for guidance in journal work. Jovial by nature, his boisterous laugh and light humor, entertained us (still ringing in my mind even after forty-eight years!)
Picture Courtesy: V.K. Deshpande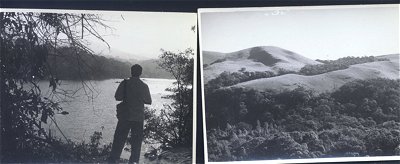 Nature Lover Kamat
Kamat's abundant love for India's nature can be seen in his writings and photography
Field collection tours to the beaches of Karwar, Krusadi Islands near Rameswaram, tropical forests of Western Ghats near Dandeli, Yellapur, Anamod as well as hill stations like Ooty, Kodaikanal, Kemmannugundi, and a number of local spots-along with friends like myself, R.N. Desai, R.M.Patil, brought all of us very close. It is on these trips, his interest in photography took firm roots. Those were the the early years of color photography, so we tried our hands on color transparencies as well.

Visits to various tourist spots like Madurai, Trichy, Tanjavur, Mahabalipuram, and Mysore exposed Kamat to the glorious cultural heritage of South India as well as the diversity of lifestyles of people there, impressing his inquisitive nature.

So amidst the company of eminent professors like Dr. Karandikar, Dr.H.V. Kashyep, Dr.A.M. Patil, a budding naturalist emerged in the form of K.L. Kamat, who was appointed as a Demonstrator in KCD after his M.Sc(1959).,allowing his teaching skills to flourish. He was popular with students, being the junior-most, amiable by nature, and through his skills.
Picture Courtesy: V.K. Deshpande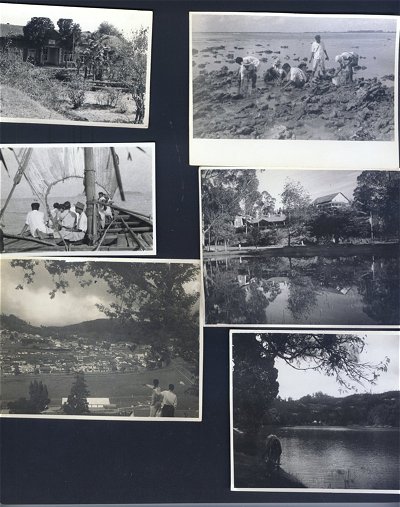 Born Tourist
Kamat had a keen observation and a deep desire to travel
Kamar Goes to America
At that time there were no facilities for research leading to Ph.D. in Karnatak College (post-graduate department was just established), so one had to search for opportunities elsewhere. Kamat got one such opportunity to study abroad and set his journey by ship to UK and then to Syracuse. (SUNY, ESF ), in 1961.

A sudden change in daily routine, lonely life in an alien land, amidst strange, totally different social atmosphere, flamboyance and luxurious lifestyles of fellow American students must have astonished this simpleton from semi-urban background, feeling homesick. To overcome this, he started writing long letters to relatives and friends back home, narrating his experiences. There were no news from India, in local papers, radio or television. There were no Indian stores, or hotels (nearest were in New York-400 miles away). He hoped to get news from home through letters, but response was poor. Kamat was a religious letter writer.

When I joined him in 1963, in the same college (briefly for two semesters), I could see his diverse interests in Indian classical music with scattered LPs of Ravishankar, Ali Akbar Khan, and Bhimsen Joshi, as well as Hindi film songs on an old model tape recorder. He used to observe the happenings around, like football games, students activities outside the college like dating, free mixing of boys and girls, drastic changes in the climate, fall colors, snowfall, which amused him. He went on photographing them, both in black and white, and in color.

He took special interest in "National Geographic" magazine, collecting both new and old issues, which gave him an insight into presentation of lifestyles of people through photography. A short course on" Electron Microscopy and Photomicrography", gave him hands-on-experience in the processing of films and printing the photos. It must have also planted seeds of scientific-photography in him.
As he did not relish bland food in American restaurants and American homes, he bought grocery and prepared delicious Konkani dishes, liked both by Indian and American friends. These episodes are very well narrated in his masterpiece "Nanoo Americage Hogidde".

Madan Pandila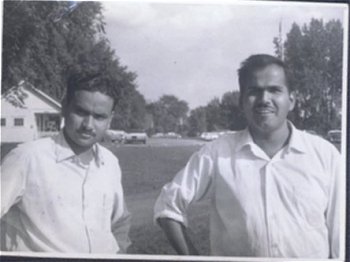 Author with Kamat
Syracuse, NY 1963

So by the time he completed his Ph.D. in Forest Entomology in 1965, he had hundreds of photographs, slides, copies of letters written about his experiences -- adding those qualities in him. Back home in India and after marriage, his brief stint as a Pool-officer in Jobner Agricultural college, Pest control in Plassey (West Bengal) added to his studies on people there, and are the basis for his works on those two states.

His search for an academic assignment at a university level, however, did not yield results. Ultimately he set up his own Scientific Photo Lab in Bangalore, pursued a new role as a writer. His first travelogue "Nanoo Amerikege Hogidde" was published in 1969, and won appreciation from readers. He continued to write articles for upcoming Kannada weeklies "Sudha", "Karmaveera", and "Taranga", on a variety of diverse topics.

Kamat was inspired by the writings of Shivaram Karanth and B.G.L. Swamy, which added to the diversity of his literary skills, in the next three decades.

This was how, a man who should have been a professor and researcher in a premier university, transformed himself into an accomplished writer, and a photographer. A historian wife, and software engineer son and daughter in law-aided him to launch his potpourri through the modern information technology, preserving his lifetime collections for viewers on global network.
Our predecessors left their art in stones and rocks, Kamat captured them in films and writing, and in abstract forms for posterity, continuing the timeless fellowship of human spirit.



See Also:
Meet Kamat of Kamat.com -- Meet Krishnanand Kamat (1934-2002), the principal creator of Kamat's Potpourri website, and learn about his multiple talents as an artist, photographer, writer, and scientist.
50 Years of Kamat -- Photographs marking the 50 years of amateur photography by humanist Krishnanand Kamat.
Kamat's Cameras -- Kamat writes about his fascination with photography