Computing, Libraries, Tennis, India & other interests of Vikas Kamat

Vikas in India 2005

First Online: March 2005
Page Last Updated: January 03, 2018

I spent a month in India during the year 2005, mostly reliving my childhood and youth. I also helped Amma with her Konkani book "Suragya Sar", and spent time with my extended family. Here are some pictures I took with my Nikon Coolpix 3700 with some annotations.

You must visit India at least once in your lifetime -- not just to experience its fabulous culture or its mind-expanding filth, but for the fulfillment it provides to self.

© Vikas Kamat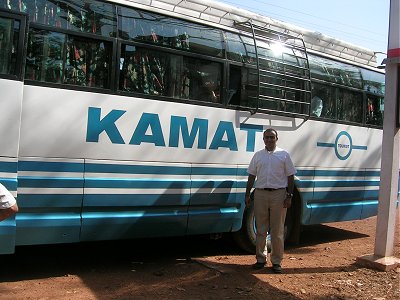 Vikas Kamat on Kamat Tourist Bus

Spiritual Journey to India
On way to India, I read the novel "The Life of Pi", that describes a character Piscine Patel who, among so many other things, practices three religions simultaneously. What a cool dude! And perhaps the most religious country in the world is the place to practice true freedom of religion, adapting the essence of the ideas of great men, sages, and prophets before you, and inoculating them with one's own discoveries. This is a super wonderful book mixing zoology, religion, survival, and wisdom.
Throughout this trip, I enjoyed the spiritual guidance of Amma -- and through arguments, disagreeing, and listening I learnt so many things that I had either rejected or just glanced over during my growing years.

At the Cashew Plantation....
My camera can neither capture, nor the blog can broadcast the exotic aroma of a cashew plantation. You've gotta visit one to experience it!
kamat.com/Kamat's Potpourri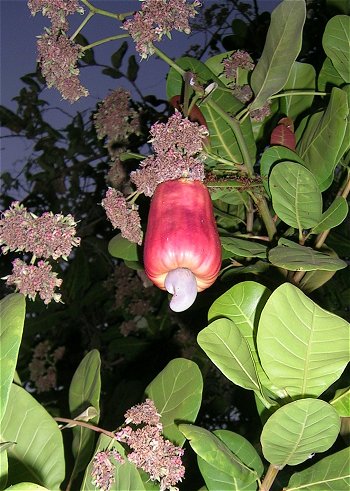 Ready to Pluck: A Ripe Cashew Fruit
The cashew fruit is one of nature's wonders. What most people call cashew, is actually the seed of the fruit, attached from the exterior to the apple

The fruit itself has an intense taste, varying from sweet to pungent, depending its species, and detaches easily from the cashew nut.
Then there's the nostalgia that is associated with it -- like when a bunch of cousins raided the cashew plantation...

At the Fish Market
I can't describe the joys of walking to the fish market at sunrise and making bid on the fresh catch, or the taste of the subsequent dish. I ate a lot of fish, prepared in Konkani style -- with generous use of spices and coconut.
© Vikas Kamat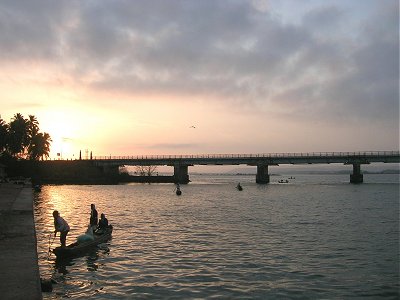 Sunrise from Honavar Fish Market
© Vikas Kamat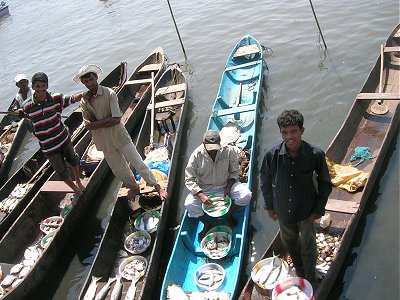 Fishermen Selling Catch of the Day

Four Wheelers from India
Cars, and other four wheelers have taken over India. However, the following two four wheelers are rather rare...
© Vikas Kamat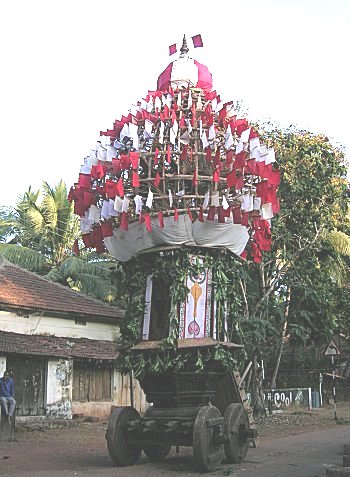 Temple Chariot, Haladipur
The picture above is a four-wheeled temple chariot in the village of Haladipur. It has no steering (some chariots have), and it is quite a feast to watch the devotees maneuver it through the streets.
© Vikas Kamat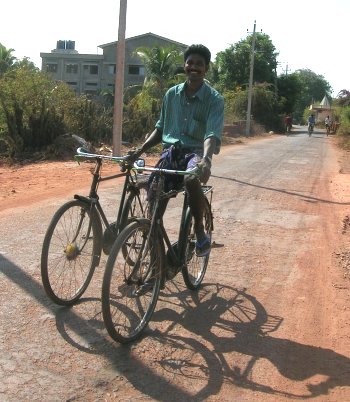 Two Bicycles make a Four-wheeler?!
This is a common trick used in India to transport the bicycle from place to place.
This man was riding a bicycle while pushing another, making it a four-wheeler. I have tried this before, it is not as easy as it appears -- especially during the turns. Also notice how will he intends to apply the breaks.
See Also: Temples on Wheels -- Pictorial exhibition of the car festivals of India; some cars these!

I visited the offices of SPI in Mysore, who build software applications and systems adhering to CMM-5 (the highest quality) standards. I have always worked with startups and have always believed that the "process-gurus" suppressed creativity and enthusiasm of the programmers -- not at SPI. I found the programmers very excited and very hard working. Given my prejudice against companies like Accenture and Ernest and Young, with whom I have had really bad experience (in my experience, they thrive on ripping off customers), I was very happy to note that Indian companies like SPI and Infosys with their honest and quality services, are constantly stealing contracts.
See Also: List of CMM-5 Software centers in India

A Sage of Our Times

I had always been an admirer of D.R. Bendre, but I had not realized his profoundness of spiritual attainment. During this tip of India, I read some of his classic poems, and especially after watching a television program (anchored by Jayant Kainini) I began to understand perhaps how the great mantras of Hinduism came into existence. During my trip to India, I understood the actual meaning of Indian terms sadhana and tapas, and I now regard Bendre as a Hindu sage of our times.

Following the Footsteps of Bappa
Since my father passed away, one of my favorite things has been to visit places and people that he visited and photographed. I wandered the streets of Malleswaram just like he did, many times identifying the people he'd photographed. I also visited the remote village of Haduvalli, and saw the idols of Jain teerthankars. I visited the house in the yard of which my parents had married.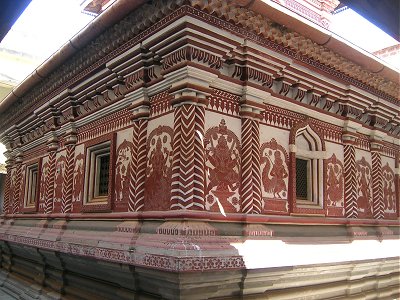 I was able to capture in color, the fine arts of Kavi Art that my father photographed in black and white.
Once my wife told me that just walking on the roads that Bappa walked was an exciting experience for her, and with that statement in my mind, I must say that I experienced it as well. I was amazed how much beauty my father found in the dirty, crowded streets of Bangalore.

At the Kamat Villa
The house my dad wanted to retire to is now my vacation home (shown below). It pains me, but it is a great investment. Currently it serves as the office of a Charity Foundation my mother has setup.
© Vikas Kamat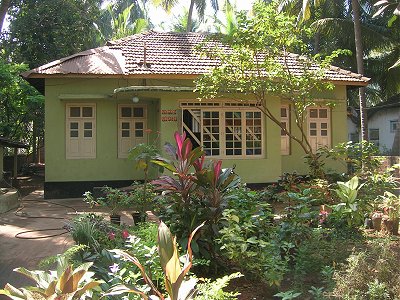 Kamat Kuteer, Honavar
A library honoring my dad is being built nearby
© Vikas Kamat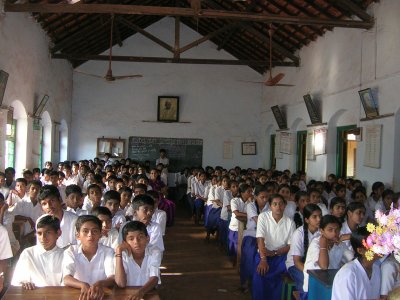 Students in a Rural School
I took this picture from the platform where I was sitting as a "Chief-guest"
As part of the foundation's activities, I visited many a schools and spoke to kids. All the schools are in pathetic condition. Everywhere I was approached for donations and I had to decline saying all my donations for the year had been to help the victims of the Tsunami disaster. But I am determined to raise a fund to help them.
See Also: Visit to Sri Swami Dayanand Ashraya Dhama

Hindus and Muslims
I felt the relationships between Hindus and Muslims had deteriorated. All my years in India, I had never felt threatened by a Muslim crowd or had heard Hindus speak offensively against Muslims in the streets. Now both were happening.
© Vikas Kamat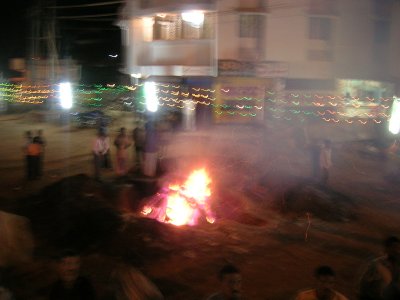 The Fire-pit being prepared to walk on
I wanted to photograph the Muslim rituals of Moharam. There were a lot of women in the crowd (with veils of course), and I really felt threatened to use my camera, and thought I'd just watch. Then someone shouted "He's come from Amrika! Show him the Peer!!" and dragged me to a spot where a decorated palanquin (? I don't know what it is). I was not sure if I had to remove my shoes (as we do in Hindu temples), but removed anyway, and someone was ordered to watch my shoes as I went in. Now you must understand, all this was happening too fast, in extreme crowds, with some devotees who had walked on fire in bare feet reaching trance. I thought it was best to leave the place with my camera and money intact.
When I went home, I felt really ashamed that I had felt threatened. After all these were the same people who have lived in my town for centuries. Among them were our customers, teachers, neighbors, and friends -- although I didn't recognize any. So I went back to the crowd again, this time much less conspicuous, in a lungi, and without the camea and watched the excited dance of Muslim youngsters -- only men danced. Women watched through their veils. It was midnight.
© Vikas Kamat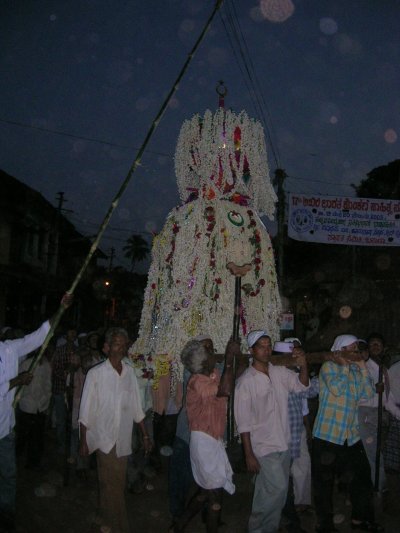 Muslim devotees during Tazia Procession
See Also: Indian Muslims -- There are 180 million practicing Muslims in India. A photographic exhibit depicting a cross section of Indian Muslim communities; includes pictures of Daldis, Navayatis, and Islamic mystics.

Other Notes
Everywhere I went, I was stuck by the use of plastic chairs -- in restaurants, in homes, on stages, and at workplaces. God, please save India from plastic invasion!
The resourceful Indians have discovered that the Cilantro (Kotambari) grows really well next to the sceptic tank. My advice is not to eat raw cilantro in Bangalore (examples: Bhel Puri or as garnish to curries). I was told that's how Leader Paes caught the parasytic infection that affected his brain.

Color and Pageantry
Of course, no trip to India is complete without documenting and enjoying her rich colors and culture. So here we go.
© Vikas Kamat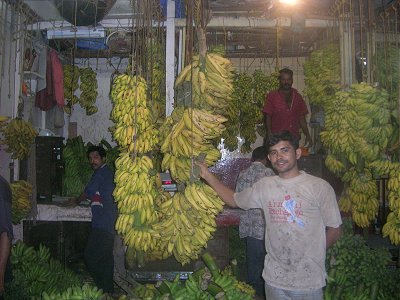 At the Wholesale Banana Market of Mangalore
© Vikas Kamat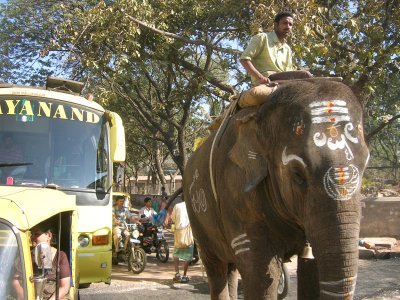 Elephant at a Traffic Light, Downtown Bangalore
© Vikas Kamat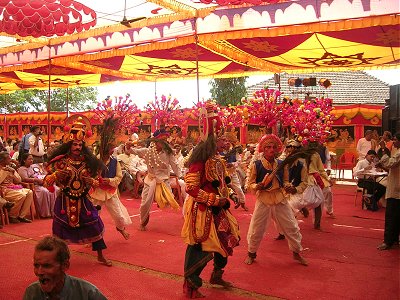 Performers at a Cultural festival

See Also: