My Own Private Bangalore
A Photographic Essay by Krishnanand Kamat
First Online: April 17, 2002
Page Last Updated: January 04, 2018

© K. L. Kamat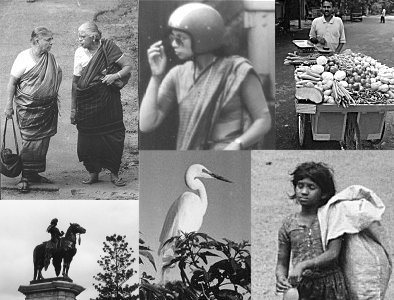 Introduction
The city of Bangalore (a.k.a. Bengaluu) today is famous for its multi-national call centers, burgeoning software industry, fresh beer, imposing Government buildings and the shopping districts. However, many journalists from foreign countries who would visit these attractions (and especially the Infosys campus) and then visit Kamat at his residence, were shocked by the alternate Bangalore Kamat lived in. "Most Bangaloreans (the people of Bangalore) do not frequent the pubs, do not own computers, or do not shop in the Commercial district"-- Kamat would point out to them.
The city of Bangalore has been the location or base (karmabhoomi) of much of Kamat's works. Kamat lived in Bangalore for thirty-two years from 1970 till his death in 2002. He operated a small business, The Scientific Photo Lab. in the neighborhood of Malleswaram. He either walked, or used the public transportation system to commute within the city. He would photograph the flowers on the roadside trees and watch the passersby at bus stations. He visited the vegetable and fruit market everyday, and has photographed some the most accomplished scholars of the city.
This section is divided into sub-sections. Some feature neighborhoods, and some, special events. I hope that the following series of Kamat's photographs of Bangalore does justice to the rich experience Kamat accumulated of the city. The title of the series, inspired by a Hollywood movie, is meant to describe the photographer's close and personal association with the lifestyle of the city.
-Vikas Kamat
Pictures of Bengaluru
The Wiring of India
Photographic exhibition of how low-tech workers are building a high-tech India
The Malleswaram Neighborhood
The old Bangalore neighborhood of Malleswaram hosts traditional people, spiritual people, and interesting people.
The Garden City of India
Bangalore was once known as the garden city of India. It is no longer, but the blooming flowers remind you of its beauty no-so-long-ago.
Life at Dattaprasad Flats
Candid pictures capture the daily activities of a community based apartment living among the Saraswat Brahmins of Bangalore.
Great Buildings of Bangalore
The city of Bangalore features many distinct architectural styles. A pictorial exhibition of some of the well-known offices of Bangalore.
Shashwati Women's Museum
One of the best kept secrets of Bangalore city is the Shashwati Women's Museum at the N.M.K.R.V. College. A
IISc Centennial
A picture exhibition on the occasion of hundred years of the premier research and educational institution of India.

See Also:
Jai Karnataka -- Potpourri of topics on Karnataka's history, people, folklore and arts. Includes sub-sections on Mysore, Karavali, and North Karnataka.
Buy My Own Private Idaho (the Hollywood movie from which the title of this page is derived) at Amazon