Tiruppavai Illustrations
The style of Tiruppavai illustrations, done in pen and ink, is in the sublime spiritual art of Tanjore tradition. Tanjore school of art (see Tanjore gesso art) taught art as a form of contemplation. The tradition attained its peak with patronage during 18th and 19th centuries, when colonial power was gaining a political hold over the Indian aristocracy. At that time, artists used in their interiors what they saw in rich lavish homes of their patrons. The drapes, the candelabras, the couches, all bear a distinct European character, while the dress, the ornaments, the coiffure, and the body features remain Indian.
K.L. Kamat/Kamat's Potpourri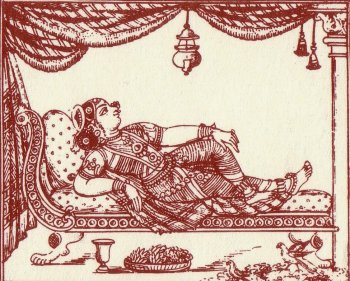 Reclining Woman on a Luxurious Sofa
Detail from a Tiruppavai illustration, 19th century
Tiruppavai illustrations typically depict Andal (a.k.a. Antal), easily recognized by the Chayakkontai she wears, a tuft of hair coiffured to the side of the head. Andal is a deified figure in Vaishnava lore, and she is shown as the poetess moving from house to house with her friends.
K.L. Kamat/Kamat's Potpourri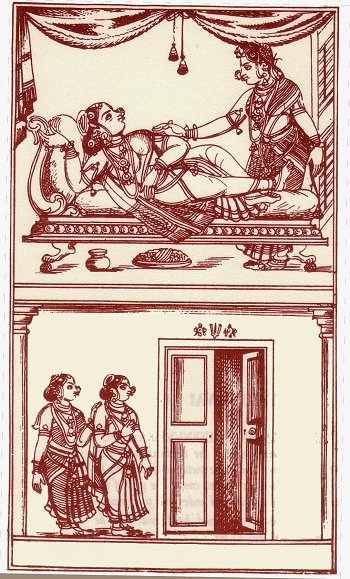 Girls Call on a Love Smitten Friend to Play
Detail from 19th century Tiruppavai illustration
The tradition of representing Lord Krishna as a plump, sensuous, overgrown child is very old in Indian art. In the theology of the Vaishnava school, Krishna is identified with Vishnu, the cosmic lord who has five forms: Para (cosmic), Vyuha (cosmogonic), Vibhava (incarnational), Antaryamin (indwelling spirit), and Arca (icon). Tiruppavai illustrations show Krishna in these forms.
These illustrations first appeared in a book of Manipravala commentary on the work, in 1871. They are pen and ink drawings; the artist is unknown.
We thank the Malavai Parthasarathy Nayakar family, the Kalaratnakaram Press, and Smt. Venkatammal of Smarak Bhavan, Melkote, for the illustrations.
Source: Tiruppavai Illustrations, with an introduction by Srirama Bharati and Sowbhagyalakshmi, Tyaga Bharati, 1989

See Also: