India's Street Culture
First Online: August 01, 2002
Page Last Updated: January 10, 2018
Introduction to Street Life of India
India's streets are truly a melting pot of her culture. Indians take to streets on all important festive occasions, whether they are celebrating a wedding, a victory, or a religious event. For a large number of poor Indians, indeed, the streets are the stage where the drama of their entire life unfolds.
A surprisingly large percentage of pictures in our photographic archive were photographed on the streets of India, and we have prepared this series to depict the variety of activities that go on the streets of India everyday.
K.L. Kamat/Kamat's Potpourri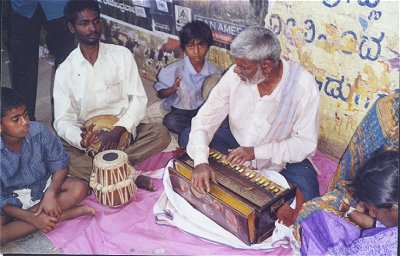 Street Singers

All Pictures by K.L.Kamat.
Pictures of Street Culture of India

See Also:
Children of Asphalt -- Population experts are worried about the children of India. Not them! Pictures of happy children growing up on the streets of India.