The Children of Asphalt
by K. L. Kamat
First Online: June 01, 2000
Last Updated: January 10, 2018
Introduction
One third of world's poor children are in India. For long I have tried to photograph them, but it never was easy. First of all, they are not orphans, and their parents always suspect a stranger photographing their children, which is normal. It was only after building a trust relationship of many years that I was able to approach the parents for permission.
It has not been possible for me to break through the Chakravyooha (complex network of children and their play) of the street children, but I enjoyed playing with them as much as photographing them. I have since become a popular hero among the children in my neighborhood of Malleswaram and some of them follow me wherever I go. They greet me as "Photo Uncle" or with a sound of the Camera clicking.
Courtesy: Sudha Weekly Magazine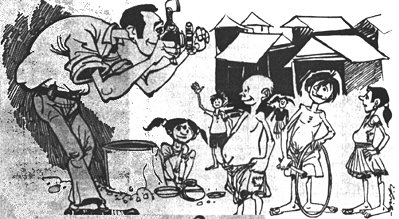 CameRasputin!
"I came to be their Photo Uncle and they followed me everywhere I went." -- Cartoon from an article on Kamat's experiences of photographing The Children of Asphalt.


© K. L. Kamat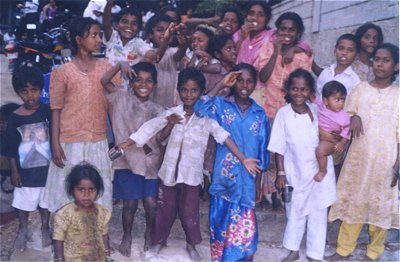 With a population of a Billion and growing, Indian children, especially those growing up on the streets of India encounter a bleak future. But I discovered that they cared less about future as they played with their cheap toys and siblings. It is amazing with what trash they can play. Here's is the first installment of pictures of Children growing up on the streets of India.
-K. L. Kamat
Table of Contents
See Also: