by Vikas Kamat
First Online: September 09, 2006
Page Last Updated: May 09, 2017
Karkala (a.k.a. Karkal) is a town in Udupi district, Karnataka, India and is located about thirty miles from the town of Udupi. According to 1973 census, the population of Karkal was 18,593.

Karkala is a town of historical importance and a pilgrim center for Jains, and most famous for the monolithic statue of Lord Gomateswara (a.k.a. Bahubali) installed c. 1432 A.D.
Vikas Kamat/Kamat's Potpourri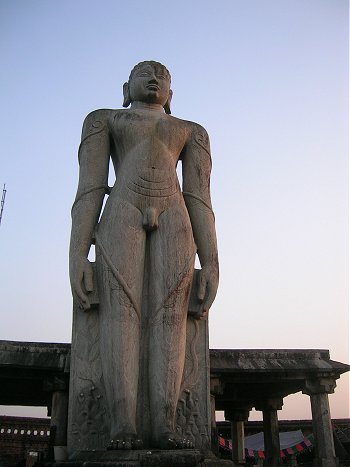 Gomateswara Statue of Karkal




Every twelve years (the next one will be held in 2014), thousands of Jain devotees come to Karkala to perform the Mahamastakabhisheka, a ceremony where the statue is then bathed and anointed with libations such as milk, water, and saffron paste.

Karkala is known as Pandyanagari or city of Pandya because, two chiefs of Bhairarasa family who ruled in this region from early 14th century, had the name of Veerapandya. The Bhairarasa hailed from Humcha in Shimoga district. As was the general practice, these rulers equally patronized all religions, though they were them selves devout Jains. They welcomed the Goud-Saraswats fleeing from Portuguese persecution and built the large temple of Venkataramana in about 1537 CE.,.

Vikas Kamat/Kamat's Potpourri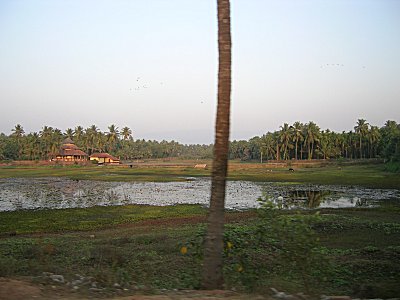 Elephant Lake, Karkala
In the middle of the pond is a a Jain temple
Karkal has two more noteworthy Jaina monuments. The Chaturmukha Basadi has four identical looking entrances from the four quarters and hence the (chatur = four; mukha = face or door). It has life size statues of three Teerthankaras, besides small small images of all the 24 teerthankaras and Padmavati Yakshi.




See Also:
Jain Monuments -- A survey of Jain monuments scattered all over the state of Karnataka.
Emerald Coast -- Articles and pictures of Uttara Kannada (North Kanara) district documented over five decades.