Book Review: Nanna Tejaswi

Page Last Updated: May 09, 2017

Last week, I had the pleasure of going through Ms. Rajeshwari's biographical book on her illustrious husband late K.P. Poornachandra Tejaswi (1938-2007), beloved writer of millions of Kannadigas, and son of the great poet and savant Kuvempu. Tejaswi in his own right has carved himself a corner in modern Kannada literature. He loved nature and adventurous forest life from a very early age and wanted to be different from the highly educated, city-bred youngsters who sought cushy jobs in cities with all civic amenities. Rajeshwari and Tejaswi fell in love when they were post graduate students at the University of Mysore, when Kuvempu was the Vice-chancellor.

Rajeshwari came from a Bangalore-based educated family with limited means. Her father was in government service but died early. Her eldest brother chose cultivation as his profession and had coffee-plantation at Bhutanakadu (literally meaning ghost's forest!) in an interior and remote place in Chikmaglur district of Karnataka. He suffered all shocks and drawbacks of early settlers. Theirs was a close knit and affectionate family. Rajeshwari after obtaining Master's degree in philosophy-(She was the first member in the family to do so) went to live with her mother and brother's family. She also loved life, close to nature, rearing cattle and doing hard house-chores.

D.G. Mallikarjuna/www.kamat.com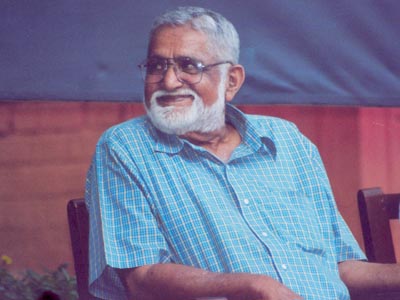 K.P. Poornachandra Tejaswi
Meanwhile love- letters were exchanged between Tejaswi at Mysore and Rajeshwari at Bhutanakadu. Both of them were 23 and wanted a "job" far from the madding crowd. Tejaswi was fiercely independent and refused any possible forthcoming help, to settle down. He tried his hand at bringing out a good periodical by purchasing a printing press, but had to give up soon. He thought of becoming an agriculturist or planter and spend his spare time in reading and writing.
But it took him nearly six years to establish himself as a planter in the interior part of Mudigere, a small town in Chikmaglur district. It was a long and painful wait for the couple. But they poured out their intense feelings in the letters. Some of these letters are reproduced, which Rajeshwari carefully preserved over years. These letters form an important and highly romantic source to understand two independent courageous, and mature, minds. Finally Tejaswi thought of marriage being convinced that he and Rajeshwari can have a comfortable family life in their forest dwelling aptly named 'Chitrakut'.
Both Tejaswi and Rajeshwari belonged to two different castes and different "social status" as conceived by the majority of Indians. They had most unconventional wedding in the forest dwelling of Tejaswi, which he had built himself. No dowry, no fanfare, no loud music nor big number of guests. Kuvempu himself acted as a priest and administered 'mantra-mangalya' (auspicious mantra) which he had composed. As a social reformer, the poet thought that a simple marriage was a first step towards building a new society. This was the first wedding which he had conceived and took a concrete shape. Many of Tejaswis' close friends and relatives followed suit later.
Tejaswi was a polymath. He loved music and trained himself as a Sitarist. He was an avid photographer and had darkroom of his own where he developed and printed innumerable clicking's on forest life, birds, beasts, insects and people as well. He did line drawings and cartoons. He was a promising poet in early life and later wrote essays, stories, novels, travelogues and science-fiction. He translated many classics from English as well. He traversed a new path of interpreting nature and her numerous ways of bounty and punishment to greedy humans. Many of his books have undergone scores of editions, and he is immortalized through his novel Caravalho, and ecological stories. Some deal with man's eternal quest to understand, nature and the accompanying success and failure. His short story Tabarana Kathe was made into a movie, which won international accolade.
Tejaswi had knack with tools as well, and repaired himself all household tools, two wheelers and car as well! He liked hunting and angling but later gave up. He was fond of hitch-hiking and could identify most of the forest-plants, flying birds and reptiles. He mixed with rural folk, enjoyed their company and regaled one and all with anecdotes and a fine sense of humor. Rajeshwari, besides throws light on some rare traits of poet Kuvempu and the other kith and kin.
From 'Chitrakut' the couple moved to bigger farm house "Niruttara"-(meaning "no reply"!). It was designed by Tejaswi and friends as per requirements. Jungle life could be ever- challenging with incessant rains, unexpected floods, storms, reptiles and forest fire. But the deep love of forest-environment which was dominant in both Rajeshwari and Tejaswi, gave them strength to face challenges and their extraordinary courage, hospitality and affection towards man and beast is reflected in this (auto) biographical work, 'Nanna Tejaswi'.
Though Rajaeshwari tells in the introduction, that it is her first attempt at writing, she has a lucid, straightforward, simple and direct way of putting things across. Her aesthetic sense and artistic approach takes the readers to a mysterious, unexplored and lovable world of wilderness.
These are only a few of the glimpses of the highly readable, 548 paged, Rajeshwari's book in Kannada, 'Nanna Tejaswi'.
It is brought out by:
Pustaka Prakashana
91/9th Main,
Saraswatipuram, Mysore-570009
Price: Rs. 369/-.
See Also: