The Vijayanagar Empire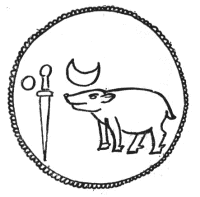 The royal emblem of the Vijayanagar kings
featuring the Varaha (boar)
The Vijayanagar Empire
1336 A.D. to 1565 A.D.
The Vijyanagar kingdom was started in South India on a humble note to resist Muslim invasion of the Hoysala territory by Mallik Kafur's destructive campaign. However, within fifty years, the Vijayanagar (a.k.a. Vijayanagara) kingdom came to be known as a powerful empire and reigned the Indian southern peninsula for nearly 200 years. It required four Muslim kingdoms to come together to destroy the unwieldy large empire at the battle of Talikota.
The big empire was visited by many foreigners who left vivid descriptions of the prosperity, strong powerful army and busy maritime trade. (See: Hu-En-Tsang.)
Their capital was at Vijayanagar on the banks of Tungabhadra river, which today (2000) contains many great ruins.
Krishnadevaraya of Vijayanagar was a great patron of art and literature and an accomplished poet himself in Telugu. The Hampi ruins are scattered over the area of fourteen square miles known as world's biggest open-air museum.
See Also:

Related Content at Kamat's Potpourri: