Paintings of Daria Daulat Bagh
by Dr. K. L. Kamat
First Online: August 15, 1997
Page Last Updated: January 04, 2018
The walls of Daria Daulat Bagh palace in Karnataka contain beautiful historic paintings. Pictures and article on the bicentennial of their creator, Tippu Sultan. -- Ed.
The walls of Daria Daulat Bagh palace in Shrirangapattna (spelled as Seringapatan in the old English archives) fort in Karnataka contain beautiful historic paintings. Hyder Ali commenced its construction in 1778 and his son Tippu Sultan (1753-1799) had it completed in 1784 A.D. Constructed as a summer palace, Daria Daulat Bagh (the name indicates that it was built with the wealth acquired from sea-trade) is surrounded by a large garden on the southern bank of the Kaveri river. Its saracenic architecture is displayed on a platform that is a foot high. The western wall has large battle scenes representing Colonel Bailey's defeat at Kancheevaram in 1780 A.D. Hyder Ali and Tippu Sultan are shown in the midst of their troops with the Nizam's army arriving too late to help the British. On the eastern wall are court scenes, Rajas and Palegars (kings and courtiers). They include: the Chittur Queen, Mohamed Ali, Balaji with his queen, the King of Tanjavoore, Veer Raj of Kodagu, Somanath of Sindha, the Nawabs of Archat and Kadolpa, Balaji Bajirao Peshva, Madakari Nayak of Chitradurga, and Rani Chennamma of Kittur.
© K. L. Kamat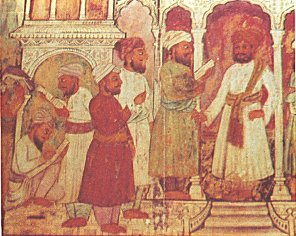 Painting shows a number of people reading and writing
After Tippu's death, Colonel Wellesley occupied the palace. However, due to constant exposure to sun and rain the paintings faded in the course of time and Lord Dalhousie, during his visit to Mysore, noticed their poor condition and took steps to get them repainted by an Indian artist. Benjamin Hyani has identified the composition of the pigments used, based on his personal research. The retouching work commenced in 1920, and in 1959 the palace was declared as a national monument.
© K. L. Kamat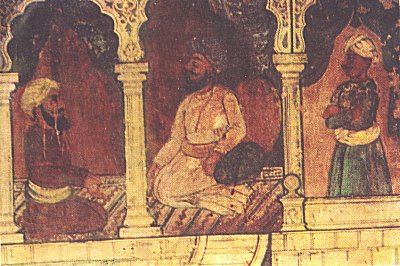 A Nawab and a Official
The first floor of the palace has been converted into a museum. Line drawings, sketches, block prints, and clothes belonging to the Hyder Ali and Tippu Sultan eras are exhibited. A huge portrait of Tippu Sultan done in the western style can also be seen.
There are sixteen framed line drawings here, which include: 1. Tippu Sultan's fort commander, Ghulam Ali Khan, 2. Tatanajachar, 3. A door keeper, Feroznauti, 4. Ali Ramzar, a lawyer, 5. Badruse Zaman Dhan, the fort commander at Dharwad, 6. Tippu Sultan's friend, Raja Khan, 7. Divan Ghulam Ali Khan, and 7. portraits of Tippu Sultan's seven sons.
© K. L. Kamat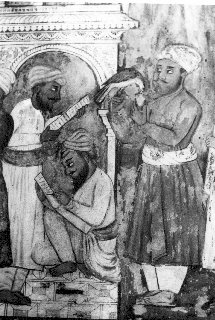 Painting shows a hawk as mail deliverer
Many illustrations show the palace employees engaged in reading, writing and also feeding hawks. It may be recalled that hawks were used to carry mail by tying letters to their claws. They flew to distances of 300 miles in just a few hours.

More Pictures of Srirangapattana
See Also: