Ordinary People of Lepakshi
by Dr. Jyotsna Kamat
First Online: June 14, 2008
Page Last Updated: May 09, 2017
The Lepakshi Temple-complex (in Hindupur, Andhra Pradesh) built by brothers Viranna and Virupanna in the 16th century, provides a large scope for the study of architecture, painting, iconography and mythological presentation of the Vijayanagar period. It also provides glimpses of contemporary dress like tall headwear (Kulavi), colored and embroidered sarees of both men and women in the paintings. The sculptures on stone walls and pillars, which are still in good condition, provide further information about certain occupational vignettes.
K.L. Kamat/Kamat's Potpourri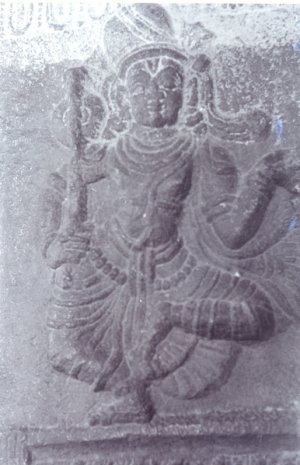 Vaishnavite Devotee, Lepakshi
Notice tanpura in his hands and nama on forehead
Those times saw the rise of Haridasa movement in Karnataka. A number of saint-poets, Shripadaraja, Purandaradasa, and Kanakadasa guided the people in the devotional path (bhakti). Singing devotional songs to the accompaniment of tanpura and dancing, signified their aloofness from worldly worries. One sculpture of a dancing Vaishnava saint, with tanpura in hand, name on forehead ad flowing head wear and dhoti is significant. Lepakshi was a Shaiva sanctuary but seems to have represented other creeds as well.
K.L. Kamat/Kamat's Potpourri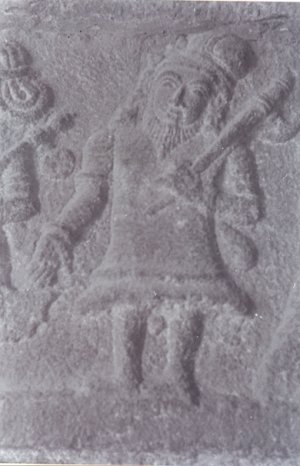 A Fakir with a Fan and Turban
Detail from a Lepakshi sculpture
We have another sculpture of a Fakir or Sufi Muslim devotee. His beard, Kafan or robe, pouch, peacock feathered rod and peculiar head wear could be identified.
K.L. Kamat/Kamat's Potpourri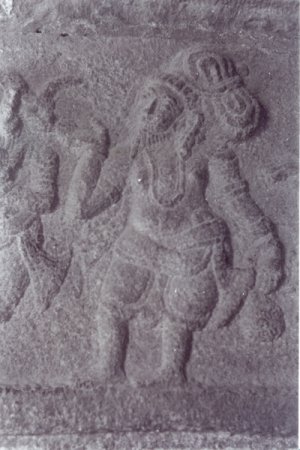 Hermit with a Locked Hair
Sculpture shows jata (knoted hair) and kamandalu, Lepakshi
A hermit with knotted hair, Rudraksha neckwear is carrying Kamandalu (water-vessel). A female devotee with Tanpura and simple dress is also carved.
The sculptor has documented dancer with the frilled and pleated skirt (challana) or the kolata or stick players, who combined dance and acrobatics to the accompaniment of drum beat and music. The beautiful attendant with neatly pleated saree is wearing the pallu folded in a most elegant manner over the breasts and leaving it flowing behind
K.L. Kamat/Kamat's Potpourri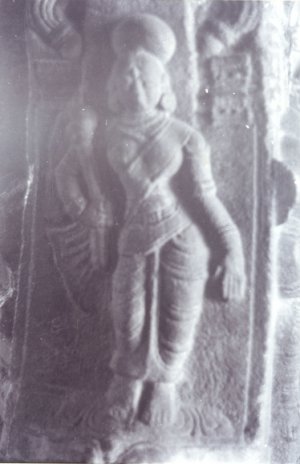 Medieval Saree Style


.

But the most interesting is the pounding scene. Two women are using pestle and mortar (second woman is not seen) beating the stuff by turns as is the practice even today in rural areas. Lack of ornaments and their ordinary dress make these figures representatives on contemporary society.

K.L. Kamat/Kamat's Potpourri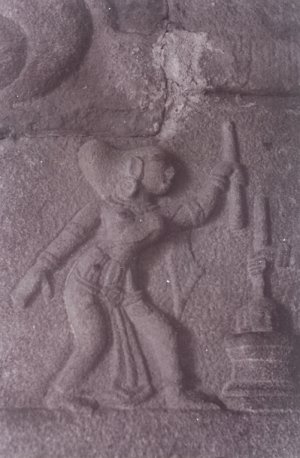 Woman with a Pestle at Mortar
Detail from a Lepakshi sculpture
Like the sculptures of Bhatkal temple, stone-pictures of Lepakshi provide a few glimpses of every-day life.
See Also:
Everyday Bhatkal -- Research paper on depiction of everyday life in a 16th century temple sculptures of Bhatkal town.