Erotic Arts of India
First Online: August 15, 1997
Last updated : January 10, 2018
© K. L. Kamat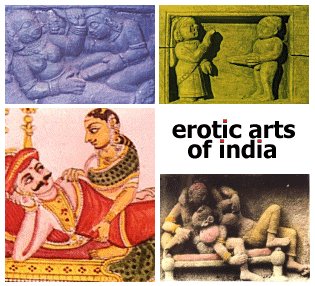 Table of Contents
Kamat on Kamasutra
Ever wondered why there are sexually explicit sculptures in Indian temples ? Kamat explains that ancient Hindus gave sex its due importance in the scheme of things
Beauties of Khajuraho
The temples of Khajuraho built in the tenth century contain stunningly explicit sexual sculptures.
Mortal Women and Celestial Lovers
Article on glorification of womanhood in Indian art.
Genitalia Worship
Indians have worshipped the sexual organs for centuries. Pictures of the Linga mystique.
List of Articles
List of Pictures
See Also: