by K. L. Kamat
Page Last Updated: May 09, 2017



Without the Yoni (womb), even the Lord cannot create.


-- From a Tantric prayer
Indians have regarded creation as one the the grandest miracles and have found divinity in the organs that facilitate it. Such genitalia worship typically involves the fusion of male and female organs, but in this section let us only look at the female genitalia (Yoni) as a symbol of art and mysticism.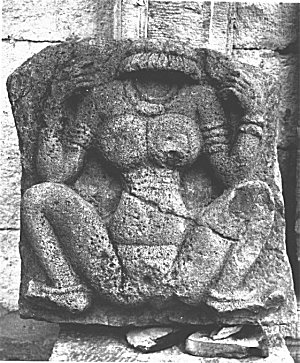 Sculpture of Lajja Gowri
The worship of "Lajja-gowri" (The Shy Goddess) is a form "Yoni" adornment. Such idols could be found at deserted temples in Karnataka, Andhra Pradesh and Maharashtra states of India. The stone or mud icon of nude female has its feet held back so as the genitalia is prominently exhibited. She also features full grown breasts. The hands are raised and clenched in fists, or holding lotus flowers. The head is represented by large lotus. The body is very richly ornamented. The women having problems with their puberty, menses, conceiving and child-birth take vow to worship Lajja-gowri with all dedication they can command. as part of this ritual they apply butter and kumkum and sometimes lick the yoni of the idol. Another similar type of practice was prevalent at Chandragutti in Karnataka state. Women favored by the Goddess Renuka (see: Given to Goddess) being worshipped in nude (Battale-Seva). Such customs and rituals connected with eroticism are prevalent throughout India in one form or the other.
See Also:


Erotic Arts of India


Index