The Indian Kitchen
Photographs of Kitchens of India
First Online: July 01, 2006
Page Last Updated: May 09, 2017
This collection of scenes in various forms of Indian kitchens were taken over several decades and across many social classes. A careful study of these photographs indeed provides an insight into many aspects of Indian culture. I have tried to point out some elements you might miss. - VK
Vikas Kamat/Kamat's Potpourri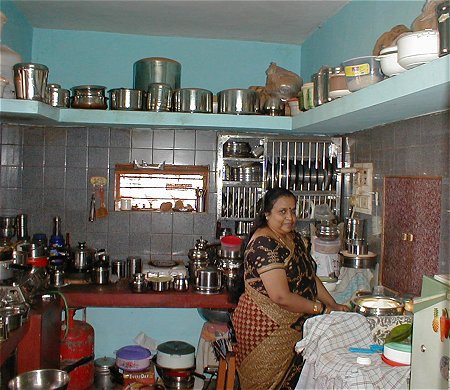 Indian Housewife in her Kitchen



Obviously this lady loved to cook! The home of D.G. Mallikarjuna, Sidlaghatta, 2003. Notice the red cylinder containing the fuel. Other than some parts of Gujarat, cooking gas is not available by tap in India, and instead refillable cylinders are deployed.

K.L. Kamat/Kamat's Potpourri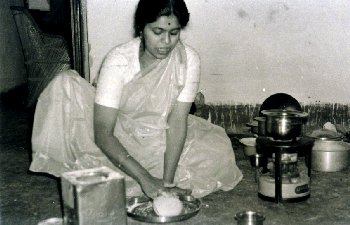 Jyotsna Making Chapati Dough, Jaipur, 1966
Photograph shows an Indian housewife cooking on the floor with a kerosene stove


Until their safety problems were publicized, kerosene stoves were very common among middle-class Indians.

K.L. Kamat/Kamat's Potpourri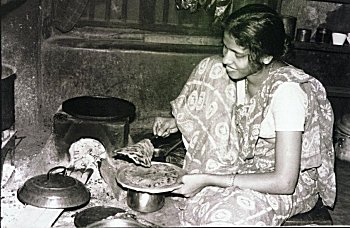 A Konkani Woman Making Pan Cakes on Wooden Stove
Town of Honavar, 1976

K.L. Kamat/Kamat's Potpourri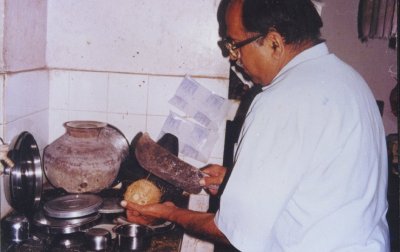 Kamat Breaks Open a Coconut for Cooking
Notice the earthen pot in the corner. This pot served as Kamat's "refrigerator"
Coconuts are used generously in Indian cooking wherever they are available. But cracking open the hard shell and grating the sheath is quite a chore. However, tasting the delicious coconut water (see how Kamat will preserve the water in a vessel) acts as an incentive for the troubles.

K.L. Kamat/Kamat's Potpourri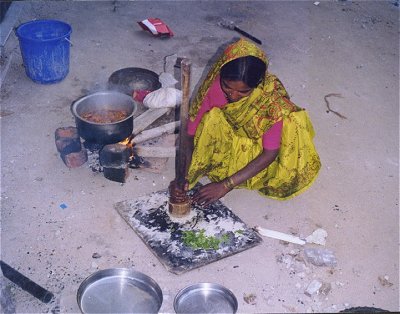 A woman smashing vegetables instead of cutting them
A construction worker cooking on the streets of India
This photograph tells so many stories. This homeless woman does not have many tools and has made a stove from brick pieces and wooden scraps. Don't you miss the red-hot spices! Also see another picture captioned "Open Air Kitchen!"

K.L. Kamat/Kamat's Potpourri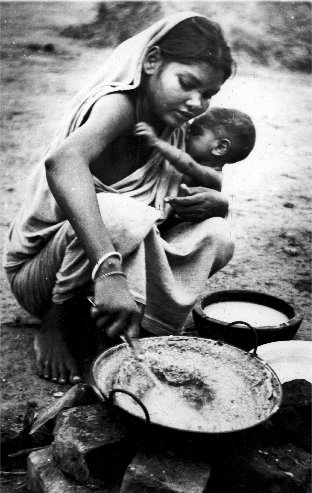 A refugee from Bangladesh, West Bengal, 1969

This much publicized photograph is even more powerful. Taken in the drought-struck Bengal in 1970, the picture shows a young mother cooking by the roadside. I wonder what she is making.

K.L. Kamat/Kamat's Potpourri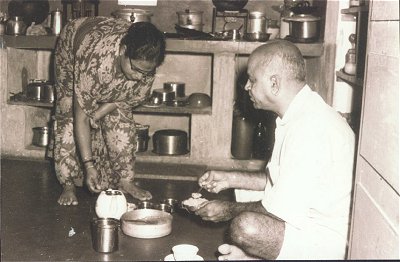 Indian Woman Serving Breakfast to Husband

Quite a common scene in Indian kitchens during 20th century, now disappearing since the arrival of kitchen furniture in India. The photograph shows a housewife serving breakfast to husband before he leaves for work. Men and women rarely ate together in traditional households of India.

Vikas Kamat/Kamat's Potpourri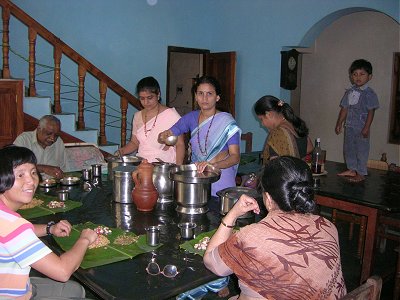 A Kitchen of a Joint-Family
The village of Manikkara, year 2006
The kitchens of join-families provide a very interesting topic of study because they demonstrate how "too many cooks may not spoil the broth" -- several women cook in the same kitchen at the same time, many times working on the same dishes. Women living in such households often share a intense love-hate relationship, although this well knit family of Manikkara seemed an exception.

K.L. Kamat/Kamat's Potpourri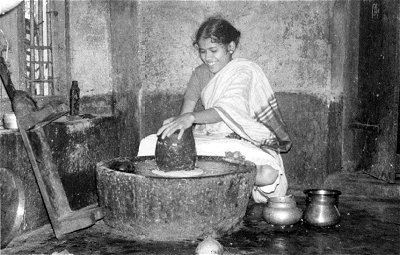 Long before "Kitchenmate", there was the Grinding Stone

The photograph taken in 1967 shows a young woman hand-grinding the pan-cake dough. Notice the utensils on the right and a vertically stored knife mounted on a stool to your left. The stationary knives continue to be popular in India. The picture below shows how to use such a stationary knife.
K.L. Kamat/Kamat's Potpourri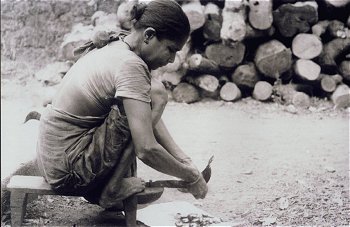 Woman Operates a Addoli (Stationary Knife)

The "Sitting down" Indian knife works the opposite way to the hand-held knife. The knife is stationary and the object to be spliced is moved producing a cut. Practitioners swear that simultaneous use of both the hands yields a very controlled cut. It is also the fastest way to grate a coconut.
More Pictures of Kitchens and Cooking

See Also:
House of Commons -- Habitats of Commoners in India; includes homes, temples, doors, and windows.