India's Freedom Struggle
Picture Courtesy : National Archives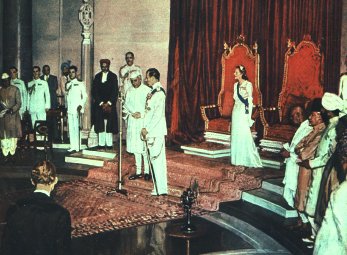 Freedom At Midnight
Pandit Jawaharlal Nehru Being Sworn in As Prime Minister
Long years ago we made a tryst with destiny, and now the time comes when we shall redeem our pledge. At the stroke of the midnight hour, when the world sleeps, India will awake to life and freedom. A moment comes, which comes but rarely in history, when we step out from the old to the new, when an age ends, and when the soul of a nation, long suppressed, finds utterance.

-- Jawaharlal Nehru Claiming Independence from British
Midnight of August 14, 1947

The Story of India's Freedom Struggle
As the subcontinent recovers from a bloody war with fellow residents, it is very important to recognize how we got here. In the narrow mindedness of the regional fervor, it is easy to forget the sacrifices made by Hindus and Muslims alike -- from the heroics of Queen Laxmibai and Tippu Sultan to the moral conquests of Mahatma Gandhi. to liberate India (and now what is Pakistan and Bangladesh) from the Europeans.
We are very proud to bring you this online exhibition of history, people and events leading to the creation of our great nation. We begin with a poem on what were our people's aspirations for India -or our tryst with destiny - followed by a historical narration starting from the Battle of Plassey. We provide biographies of some of the bravest soldiers of India, leaders and visionaries. Internet links to further references/surfing are also provided.
Happy Birthday India !
--The Kamat Family
First Created: August 1, 1999
Last Update on: January 04, 2018
Sacrifices for Swaraj
Veer Savarkar
Biography of Vinayak Savarkar, a great historian, scholar, and a revolutionary freedom-fighter.
The Sepoy Mutiny
The ''Sepoy Mutiny'' is a remarkable event in Indian history, marking the end of the Mogul empire and sealing India's fate as a British colony.
Multimedia Mahatma
Memorabilia, biography, excerpts from autobiography, photo archive and links; includes an interactive Ask Gandhi section
Sword of Tippu Sultan
Biography of Tippu Sultan on the occasion of the bi-centenary of his brave death
Goa's Freedom Fight
Pictures and stories of Goa's struggle for freedom from Portugal and her integration with rest of India.
Congress Archive
Rare pictures and artifacts from the archives of Indian National Congress. A pictorial story of India's freedom struggle.
Martyrdom of Sardar Bhagat Singh
Translated radio feature on the martyrdom of Bhagat Singh.
Netaji Subhas Chandra Bose
Biography of Subhas Chandra Bose, a revolutinary leader of India.
Freedom Fighters of Karnataka
In fighting for freedom of India, these leaders in fact fought for unification of Karnataka.
Muslims for Free India
Article narrates the contributions of Muslims during India's freedom struggle against the British.
Women Freedom Fighters
Sacrifices and contributions of women towards India's freedom struggle; includes portraits and biographies.
Bhikaji Cama and the Indian Tricolor
The incredible story of Madam Bhikaji Cama and the first unfurling of India's national flag.
Remembering Tilak Maharaj
Jyotsna Kamat pays tribute to Lokamanya and his vision of Swaraj (home rule) and many other ideas for a free India.
See Also:
Tryst with destiny
Introduction | Tryst With Destiny | Brief History
Sepoy Mutiny | Indian National Congress
The People | The Events


The Story of India's Freedom Struggle
Pictures of Freedom Struggle