Sarojini Naidu
by Jyotsna Kamat
First Online: July 1, 2002
Page Last Updated: May 09, 2017
Known as the "Ccuckoo of India", Sarojini Devi was a distinguished poet, renowned freedom fighter and one of the great orators of her time. Her father Aghoranath Chattopadhyaya was a good scholar of Sanskrit, Greek, Hebrew, Persian and English languages. He was the principal of The Nizam's College at Hyderabad, now capital of Andhra Pradesh. Sarojini's mother Varadasundari Devi wrote poetry in Bengali and knew Sanskrit. Sarojini was the eldest among their eight children. All the children grew learning and speaking besides Bengali, their mother-tongue, Urdu, Telugu and English. One of her brothers Birendranath was a revolutionary and spent his life outside India all the time for fear of getting extradited for sedition and black waters. Other brother Harindranath was a poet, dramatist and actor.
K.L. Kamat/Kamat's Potpourri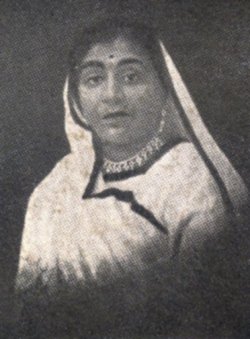 Portrait of Sarojini Naidu
Picture from the 1938 Congress Convention Volume


Sarojini Naidu (1879-1949)

Nizam's Hyderabad at that time had made no progress in women's education. Hence Sarojini was sent to Madras for schooling. She topped the matriculation examination at the age of twelve, raising innumerable eyebrows. Women's college eagerly awaited for her entry but she returned to Hyderabad due to frail health.

She had started writing poetry in English by then, and the Nizam, very much impressed by her brilliance offered her a scholarship to study in England. She did not appreciate the stiff and mechanical life in the British university (Cambridge). Her health was also delicate and she had to bid goodbye to higher education. But she undertook journey through entire Europe, read art books and continued writing poetry. She met English authors Arthur Simon and Edmond Gausse. It was Gausse who convinced Sarojini to stick to Indian themes--India's great mountains, rivers, temples, social milieu, to express her poetry. "To be a genuine Indian poet of Deccan, not a clever machine-made imitator of the English classics" as was the trend. He helped to bloom her poetic talent. "The golden threshold (1905)", "The bird of time (1912)", and "The broken wing (1912)" were the collections which attracted huge Indian and English readership.

She depicted contemporary Indian life and events. Snake charmers, beggars, fishermen, widows, bangle sellers, milkmaids, palanquin bearers, etc., which became immensely popular.

A brahmin, she married Govindarajulu Naidu, a non-brahmin, and a doctor by profession, with the concurrence of her parents -- a revolutionary step in that conservative age. They had a happy married life and four children.
Role in India's Freedom Movement
India's freedom struggle was in full force and she came under the influence of Gopalakrishna Gokhale and Gandhi. Gokhale advised her to spare all her energy and talents for nation's cause. She gave up writing poetry and fully devoted herself to emancipation of women, education, Hindu-Muslim unity etc. She became a follower of Gandhiji and accompanied him to England. Whenever in England, she openly criticized British rule in India which caught the attention of scholars and intellectuals.
Towards Gandhi, Sarojini had both respect and mischief. She was famous for wit and humor, and called Gandhi "Mickey Mouse." because of his frail structure. She has an amusing narration of her first meeting with Gandhiji in England. "A little man with a shaven head ...eating a messy meal of squashed tomatoes and olive oil out of a wooden bowl" she burst instinctively into happy laughter. Gandhi lifted his eyes. "Ah! You must be Mrs. Naidu! Who else dare be so irreverent? Come and share my meal!" he is reported to have said.
Her joke "It costs a lot to keep Gandhi poor!" is well-known.
She presided over the annual session of Indian National Congress at Kanpur (1925). It was a great honor. The president was all powerful and had to work out many constructive projects for the entire country for full one year. She earned a name as a remarkable organizer with originality and dash. She had a leading role in Salt Satyagraha and consecutive struggles. She was jailed with Gandhiji and other leaders. She was President of National Women's' Conference for many years and could train many volunteers who took up women's cause.
She was appointed Governor of Uttara Pradesh, a large province of India, as soon as India became independent. "I am a Governess!" she used to joke.
Sarojini had very fine aesthetic sense and was known for selection of exquisite silks and jewelry. But she gave up everything for the sake of national struggle and began to wear coarse Khadi.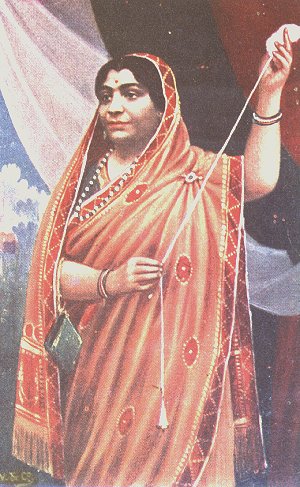 Sarojini Naidu Spinning Yarn
Detail from a picture postcard c. 1945
See Also:
Tryst with destiny
Introduction | Tryst With Destiny | Brief History
Sepoy Mutiny | Indian National Congress
The People | The Events