Mahamastakabhisheka of Gomata
The anointing ceremony (a.ka. mastabhisheka or mastakabhishek) of the image of Gomateshwara at Shravanabelagola is celebrated every twelve years by Jain monks and several thousand other followers of Jainism. The colossal granite statue is 58 feet in height and stands majestically on Indrabetta hill in Karnataka. It was fashioned during the prosperous reign of Rachamalla Saytavakay in 983 A.D. (See also Ganga Dynasty) During the ceremony , milk, honey and clarified butter are poured from Gomateshwara's head (abhishek).
Corel Professional Photo/Kamat's Potpourri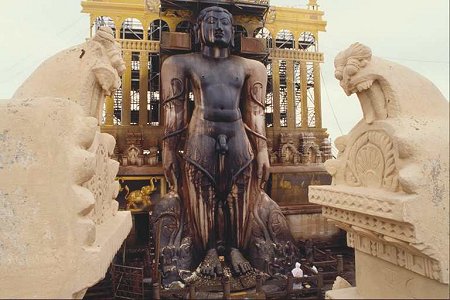 Sri Gommateswana, Sravanabelgola.


See Also:
Hadolli Monuments
Monuments of Karkala