A Survey of Jain Monuments of Karnataka
by K.L.Kamat
First Online: August 15, 1997
Page Last updated : January 10, 2018
Introduction
The Jain religion is contemporary of Buddhism, believes in cycle of rebirths and consequently regards life as painful, longing for liberation (see an Introduction to Jainism). It came to Karnataka four centuries before the Christian era. The Gangas, Kadamba, Chalukyas and Hoysala kings had encouraged the Jainism. They have left innumerable shrines, Bastis (a.k.a. Basadis), Gomata statues and stambhas (pillars). The following is district-wise brief account of important Jain monuments of Karnataka. (See a map of all the districts of Karnataka)
Editor's Note
This article contains many technical terms. Please use our glossary database to search for definition of a term.
HASSAN DISTRICT
Shravanabelgola
(a.k.a. Sravanabelagola)




K.L. Kamat/Kamat's Potpourri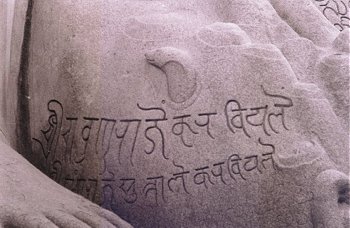 Carving at the footstep of Gomateshwara
Jain pilgrimage center of Shravanabelagola. The letters are in Devanagari script, but the language has been a dispute of scholars. Is it Marathi or Konkani ?
The town is 50 km from Hassan and 10 km from Chananrayanpatna. It has two hillocks, Indragiri and Chandragiri. The former one is also known as Vindhyagiri, and stands 143 meters high. About five hundred steps lead to the top of this picturesque hillock where 58.6 ft high Bahubali (Gomata) statue stands. It is a monolith carved around 980 A.D. and considered to be a landmark in the annals of world art. His broad shoulders are 26 feet across. He is a symbol of eternal value, absolute renunciation detachment, and a soul set free from material surroundings. The Gomateswara's head anointing (Mahamastakabhisheka) ceremony is a visual splendor, which is performed once in twelve years. The last one took place in February of 2006.
Shravanabelagola has been great seat of learning for thousands of years and is home to some of the most beautiful Jain fine arts.
Indragiri
K.L. Kamat/Kamat's Potpourri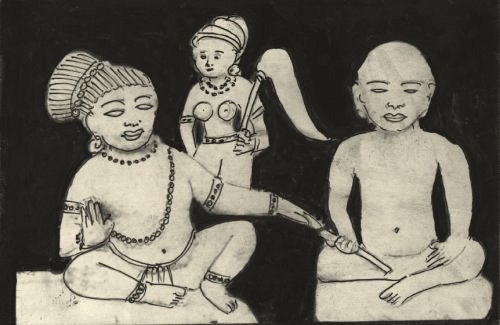 Chavundaraya of Gometeshwara fame.

(picture hand-enhanced by author; the original is in a very poor condition- Ed)

Many historical monuments are located on Indragiri. The Odegal Basadi contains Adinatha, Neminatha and Shanthinatha icons. The Tyagada Brahmadeva Pillar (980 A.D.) has intricate carvings. The Akanda Bagilu is a doorway carved out of single rock. The Siddaragunda is a massive-rock on which rows of Jina figures have been carved. The Gullakayajji sculpture is specimen of very fine workmanship. The Channanna Basti (1673 A.D.) has Chandranatha icon.
Chandragiri
The Chandragiri has numerous monuments located at top of the hillock surrounded by a compound wall. It is said that in the third century B.C., Chandragupta Maurya, and his guru Bhadrabahu came here from North India and under took Sallekhana (inviting death by fasting). There are numerous memorial stone (Nishidhis) of Jain ascetics who underwent Sallekhana. The Parshvanatha Basti contains five-meter high Parshvanatha icon. There is a tall manasthambha in front of the Basti. Kattale Basti contains Adinatha idol with a pair of chauri-bearers. The Chandragupta Basti consist of three chambers and contains Parshvanatha icon. Elaborately carved marble screens are located on either side of doorway situated in front of the vestibule. They depict many incidents from lives of Chandragupta and Bhadrabahu. The Chamundaraya Basti is in two level, at the ground level it has Neminatha and on to of it Parshvanatha icons could be seen. The queen Shantala got constructed Savati Gandhavarana Basti. The Shasana Basti houses Adinatha idol. The Shanthinatha, Suparshwantha, Chandraprabha, Majjiagannaare the other Bastis located on Chandragiri, and in the town.

The largest Bhandara Basti is located in the town, which houses 24 Jain Teerthakara in row. The Jain Matha stands near by this Basti. In this Muth, the walls, of the verandah which surrounds a central courtyard, are decorated with mural paintings. The panels on left depict the life of Parshvanatha who underwent many rebirths. In his firs birth he was known as Marubhuta born to a minister to king Aravinda. He had an evil brother called Kamatha. When elder brother was on a mission with the king, Kamatha declare himself the emperor and tricked his brother's wife to have sex with him. After the king's return he was severely punished. He was given a head shave while boys urinated on his head;
He was parade on a donkey's back while the boys threw stones at him. All these events could be recognized in different panels. Other wall paintings depict episodes from King Bharata and Prince Nagakumar an annual fair has been painted in detail.
K.L. Kamat/Kamat's Potpourri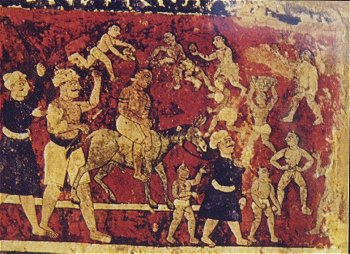 Medieval Crime and Punishment
Wall painting in a Jain Muth in Sravanabelagola shows a man being shamed in public.



Jinanathapura village is located north of Chandragiri. The Aregal Basti has been constructed is a highly ornate style like other Hoysala temples. A white marble Parshnatha has been installed in Basti. Shantishvara Basti's outer wall decorated with innumerable floral designs and human figures about five km from Shravanabelagola, there is an ancient and dilapidated Basti could be seen. There is a tank near by and there a few Jain icons on its bank. The village is known as Hale (old) Belagola indicating that it is the original Belagola. (see Hale-Belagola)

K.L. Kamat/Kamat's Potpourri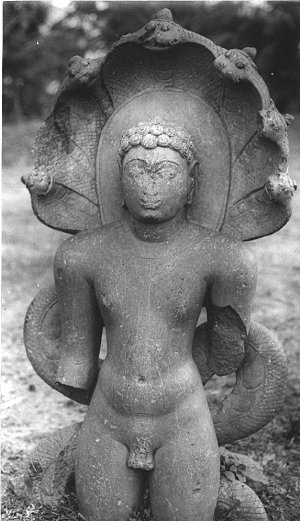 Jain Teerthankar (sage) with seven hooded cobra

DAKSHINA KANNADA DISTRICT
Moodabidiri
It is a small town, about 35-km northeast of Mangalore. Out of eighteen Bastis located here "Tribhuvana Tilaka Chudamani Chatyalaya is the biggest. It is supported by about thousand pillars and hence popularly known as "Savira Kambada Basadi." It was built in 1431 by the eight traders and four town councilors. In 1402, Bhairadevi, the queen of Garesappa added an elegant mantapa to the Basti. Queen Nagala Devi installed fifty feet high Manastambha in front of the monument. The Basti is famous for its beautifully carved pillars. Elaborately carved figures of chauri-bearers, drummers, elephant riders, a giraffe and a dragon could be observed.
The Jain Math of the town is of great importance to Jains. Its walls are decorated with numerous paintings A huge painting depicts the male headgear of the period. Unfortunately most of these painting have faded now. However, it has a rare treasure house of painted palm leaf manuscripts Dhavala, Jayadhavala and Mahadhavala, which could be dated around 1114 AD. They have many exquisite miniature paintings of Teerthakaras, Yakasha, Yakshinis (celestial bodies), kings, queens, devotees and ornamental flowers. They are in bright colors but are drawn with great delicacy.
Karkala

Karkala is a town located 52 km to the northeast of Mangalore. 42 feet, monolithic, Gommteshwera was installed in 1432 AD by Vir Pandya of the Santara family. About two furlongs from Anekere, the statue stands on a rocky hillock. In 1437 AD a Brahmadeva Stambha was set up in front of Gommata. The sculpture of Brahma on the top of the pillar is an example of excellent workmanship.

The Chaturmukha Basadi of Karkala was completed in 1586 AD. It has four identical entrances in four directions. The garbhagriha has the standing statues of Ara, Malli, and Suyrata. In addition images of 24 Teerthakaras, Yakshi Padmavati could be found.

In 1329 AD the Neminatha Basadi was constructed at Hiriyangdi, one km to the west of Gomata Hill. 54 feet manasthambha, carved out of single rock has been installed in front of the Basadi.




Dharmasthala
Dharmasthala is 75 km from Mangalore, located on the banks of the Netravati river. This town is known for religious tolerance and the Jain Teethankaras are worshiped on the same consecrated grounds as Lord Manjunatha (Shiva) .The priests are Vaishnavites whereas the hereditary guardians are Jains by faith.

The Trustee Veerendra Heggade got installed 52 feet idol of Gomata in year 1973. It weighs about 175 tons and is the third largest statue in the country.
Venur
It is 15 km from Dharmasthala. Timmanna Ajila got erected the monolithic Gommata in 1604 AD which is 38 feet tall. Among eight Basadis located here, the Shantinatha Basadi is well known for its architectural merits.



UTTARA KANNADA DISTRICT
Gerusoppa
(a.k.a. Gerusoppe)

Gerusoppa village is 29 km from Honavar, on the bank of river Sharavati. The Saluvas ruled from here during thirteenth to seventeenth century. The Chaturmukha Basadi of Gerusoppa was built during fourteenth century, which has four identical doors in four directions. Similarly, four identical Neminaths's statues are carved out in marble.
Hadolli
(a.k.a. Sangeetapura)

Haduvalli (Sangithapura) is a tiny village ten km from Bhatkal. Another branch of the Saluvas dynasty ruled from here. In Padmavathi temple there numerous metal icons which belonged to 14th century. Fourteen Tirathankars in black marble are installed in a row. The Chandranatha Basadi is located at a short distance.

© K. L. Kamat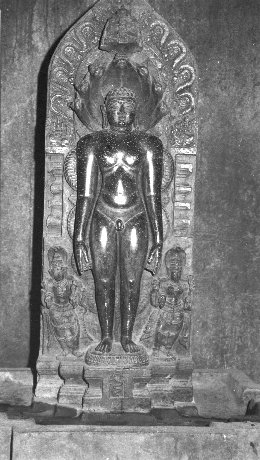 A Jain Statue near Bilagi, Karnataka

Bilgi
Bilgi (a.k.a. Bilagi and Svetapura) town is thirteen km from Siddapur. It was the capital of Odeyas of Bilgi. At the instance of famous saint Bhattakalanka, the prince Rangapparaja and his son Ghantendra have built Ratnatrya Basadi in 1581. It has shrines in which idols of Neminatha, Vardhamana and Parshwanatha have been installed. The Shantishwara Basadi was added in 1592.

DHARWAD DISTRICT
Lakkundi
Lakkundi (Likkigundi) is a small town near Gadag. The Kalyana Chalukya Commander's noble and saintly wife, Attimabbe built the Brahma Jinalaya in 10th century. Its doors are intricately carved and the walls have innumerable sculptures and its shikharas are tall and ornate.
© K. L. Kamat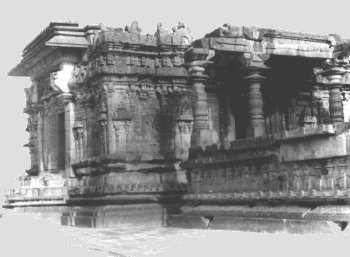 The Jain Basadi at Lakkundi
Another near by town Lakshmeshwar (Puligere) has the Shankara Jinalaya constructed by Badami Chalukyas.

BELGAUM
At Raibag (Bagi) stands the Adinatha Basadi of later Chalukyan times. It has 18 meters tall manastambha. Tavadi (Stavanidhi) a town five km from Nippani has the Brahmadeva Basadi complex. The Shantinatha Basadi is located at Shedbal.

BIJAPUR
The Megana Basadi is a rock cut Jinalaya of sixth century. It contains images of Bahubali, Mahaveera and Parshwanatha.

SHIMOGA
Humcha town is twenty km from Hosanagar. The temples of Parshwanatha and Padmavathi are located here. These are maintained by the local Jain Math.

About Author



Since his childhood, Dr. Krishnanad Kamat has been inspired by the Jain architecture. He invites young historians to take up studies in Jain history and art.

See related topics at Kamat's Potpourri: