by Krishnanand Kamat
First Online: January 1998
Page updated: May 09, 2017
Art lovers and scholars have largely failed to recognize the Kavi (Kaa-vi) art of coastal Karnataka and Goa. Here, I have tried to introduce this remarkable, yet ignored and dying form of wall art.


© K. L. Kamat

Romance of Lakshmi and Vishnu
Lord Vishnu, resting on a five hooded cobra seduces Lakshmi.
A fine example of delicate Kavi art from a temple in Kumta.
The typical murals of Karnataka that are found in Hampi, Hiriyuru, Lepakshi, Sibi, Sira, Shravanabelagola , Srirangapattana and other places are nowhere to be seen on the west coast of the state. Similarly, the jesso work of Mysore traditional paintings has not made any inroads towards the coast, comprised of Uttara and Dakshina Kannada districts.
This is understandable, as these districts receive more than 150 inches of rainfall during the four monsoon-months, which makes the climate of the region wet and humid. Multicolored murals cannot stand this much moisture for long periods of time; the murals peel off within a couple of years. Centuries ago, coastal art lovers overcame this difficulty by adopting what could be called "Kavi Art" for their murals. The term "Kavi" (also "Kyavi") is the local name for Indian red pigment (uramunji, maroon) which is the only color used for the murals.
The Technique
Temples and other private buildings in this area are built with cutout laterite stones. Locally available materials are used for plastering. Snow white lime, obtained by burning seashells, and washed sand from river beds are mixed with jaggery and allowed to ferment for two weeks. The mixture is then hand-pounded to obtain a homogeneous substance, which hardens when applied to the walls. On the wet walls on which Kavi pictures are to be etched, a buttery smooth mixture of lime and uramunji is smeared with a steel trowel. To cover larger areas, a wooden float is also employed. After an hour, engraving work commences. A well-trained Kavi art mason can etch a small mural without any aids. For geometrical designs he employs rulers and compasses. Large and complicated motifs are first drawn on paper, perforated with pinholes and then traced on the wall by dusting the pinholes with dry lime.
"Kanthas" (steel bodkins) of different sizes and dimensions are used for etching. At this stage any deformity in the murals may be rectified with ease. After a day of initial drying, water is sprayed on the murals at four-hour intervals for a week. After each spray, the murals are polished with smooth pebbles from the riverbeds. This treatment prevents any cracks and ensures that the murals last as long as the building itself.
Artistically drawn and well executed, reddish brown murals against white sandblasted backgrounds are as attractive as multicolored paintings.
Varied Designs
There are no hard and fast rules as to where Kavi pictures may be located on building walls. They can be seen on the outer and inner walls of porches, on the Mahadwara, on the Mukhamantapa, on the Sukanasa, on the sanctum sanctorum and other locations. The general appearance and architecture of these buildings are unique and impressive: They have several rows of doors, windows, ventilators and arches. Many are two storied buildings, the tops of which are covered with Mangalore or local tiles. Rows of spirals, spades, semi-circles and curves are employed to decorate ridges, platforms and niches. Twin pseudo-pillars are ornamented with V-shaped parallel bands. The intervening space is covered with big circular, geometrical designs. Circles, semi-circles, triangles, squares, hexagons, and octagons are used in such a way that a mosaic impression is created for the viewer. One surprising thing is that no two designs are identical.

Geometrical design in Kavi art
The murals stand out from other engravings because they are usually located either on raised platforms or in niches. They may be as small as two-feet by three-feet in size, or as large as six-feet by six-feet. A window or a ventilator may also become part of a mural. A broad border runs all along the murals, which may be either square or rectangular. The top is usually semi-circular in shape with a decorative mukuta (crown), kalasa (decorative pot) or gopuram (peak of the dome) located on it. Care is taken by the artist to see that at least two thirds of the wall is covered with the motif. Images of gods, goddesses and human figures sometimes flow outside the mural frames. Screens, curtains, pendant lamps and globes occupy the remaining areas. Plants, stems and leaves are also employed for the same purpose. They are more symbolic than realistic. For instance, a group of oval petals represents a flower. If a stem is added to this, it becomes a tree. At times, leaves and fruits are also added. Often, animals are artistically included in the murals. Some of the artists' favorite subjects are parrots perching on a treetop, dancing peacocks and flying pigeons. At times, an artist tries to show his skill by engraving two monkeys in such a way that they look like four. Similarly, bull and elephant heads are etched in close vicinity such that the bull's hump forms the trunk of the elephant.
© K. L. Kamat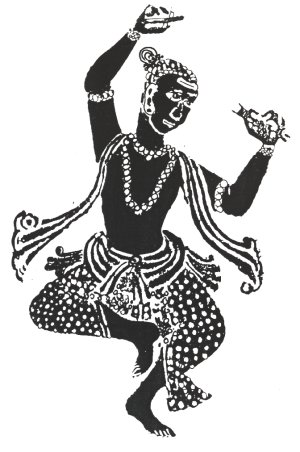 Sage Narad (Naradamuni) in a Kavi Mural
Sculpturesque Themes
Like a sculptor, a Kavi artist also selects sequences from the Ramayana, the Mahabharata, and the Bhagavata Purana for his murals. However the Kavi artist has to take special pains to create a three dimensional effect from flat pictures. An expert artist attends to all the details of different characters. For instance, in a mural depicting Draupadi, her head decorations, pig-tail, ornaments, blouse and saree designs are engraved in such minute detail that one can use the painting to study dresses and ornaments from that period. The themes selected mainly depend upon the main deity of a given temple. For example, the Dashavatara (the ten avatars of Lord Vishnu) can be seen on the walls of Vaishnava temples, and Shiva-Purana themes are used on the walls of Shaivaite temples. There are other themes, such as Siddhi Vinayaka, Govardhan-giridhari, Kaliya-mardan, Shri Krishna Leela, Nakul-Sahadev, Surya-mandal and Chandra-mandal, that are common to most of the temples. Mahishasura-mardini, Dhumralochan-mardini, Bhasmasura Mohini and other such murals dominate the walls of the Devi temples. Different artists may select the same subject but employ entirely different depictions. Murals of Kaliya-mardan and Govardhan-giridhari are two good examples of this.
© K. L. Kamat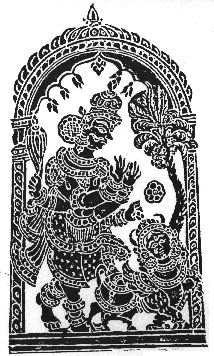 A Kavi mural from the Konkan coast

The Kavi art is a great example of monochrome mastery of Indian artists
The style adapted by the urban Kavi artist is radically different from that of the rural artists. Both legendary and contemporary personalities, such as Vyasa Muni and Madhvacharya, are depicted in some of the temples. The common people of the time are represented in some of the murals. The Dwarapalakas (doormen) are wearing long turbans, side shirts (a.k.a. Kase or bagal bandy), and knee-high dhotis. They are carrying cudgels, maces, or country-made guns. A nobleman is shown as welcoming visitors with folded hands (Namaskara). To suit his taste, status and dignity, he is wearing a beautifully embroidered rumal , a long coat, and a dhoti. Some nobles are in western costumes, such as shirts, trousers and boots. However, the housewives are always shown in typical coastal Konkani women's consumes. A nose ornament in the form of "Nallu" and nine yard sari worn with back "kacche" (a pleat of sari going between legs and tucked at the waist from behind) are some of the characteristics of the typical attire of these women. It is significant that the female characters of mythology such as Laxmi, Saraswati, Mohini, and Nagakannikas are also depicted in this dress.
© K. L. Kamat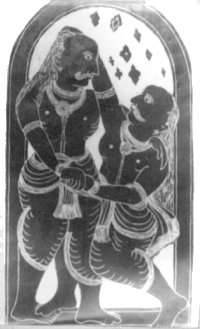 A Kavi mural depicting a duel
The Kavi artists have not left their identity anywhere. However, the themes of the murals are indicated in Devanagari script inside the panel. Records are available indicating the year in which the temple complex and its Kavi pictures were completed in only a few cases. The Shri Mahalasa Narayani temple of Kumta was constructed in 1565 A.D.and Shri Ramamandir of Honavar was erected four centuries ago. The Shri Marikarikamba Devi temple of Sirsi was completed in 1689 A.D. No temple constructed in the last fifty years contains any Kavi art that is worth mentioning.
On the Decline
It is very unfortunate that this form of art is not widely recognized by art lovers. National and state books on Indian art do not even mention the existence of Kavi art. Because of this lack of recognition and patronage, Kavi art is on the verge of becoming extinct. The old masters still live on in coastal Karnataka, but nobody utilizes their services (1997). The murals in private buildings are the first to disappear, in order to make room for new looks to old walls. Temple officials are following this trend by collecting donations from devotees and destroying the murals. Because of this, there is an urgent need for preserving these murals in the form of tracings, photographs, and video recordings. It is hoped that either the government or some private organization will undertake this work on a war footing before it is too late.

Dr. Kamat is the first researcher to elaborately study and document the Kavi Art. His books Kavikale (in Kannada) and Konkanyangele Kavikala (in Konkani) are the most authoritative works on Kavi murals.
– Ed.