First Online: November 10, 2000
Last Updated on: January 03, 2018
Over the years, through his lectures, exhibits, and books, Dr. Stephen Huyler (pronounced high-lur), or Steveji as he is popularly known, has given a new platform for the India's expressions of devotion. We continue our series on the Pioneers of Indian Culture with an interview with this anthropologist, writer, and photographer extraordinaire.

Huyler's multimedia exhibit Meeting God: Elements of Hindu Devotion is scheduled for public display in early 2001 at the American Museum of Natural History in New York. Huyler's other works include The Painted Prayers: Women's Art in Village India, and Gifts of Earth: Terracotta & Clay Sculptures of India.

-Vikas Kamat

Interview conducted on July 24, 2000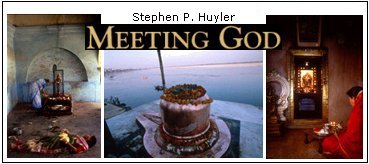 Meeting God: Elements of Hindu Devotion
is a traveling exhibit of Dr. Huyler's photographs & research
Vikas: Namaskar Steveji. How did you become interested in India?
Steveji: I've always had an interest in the diversity of mankind, and took to studies on India (B.S. Univ. of Denver, Ph.D. from the University of London's School of Oriental Studies). Two ladies, Kamaladevi Chattopadhyaya and Rukmini Devi Aundale acted as catalysts for me to study Indian art and culture and provided the early encouragement and support. Over years, my interest in India and her people has only increased.
Vikas: Other than Raghu Rai and very few other prominent photographers, it was always a westerner who has had to expose the wonders of India. Why do you think this is so?
Steveji: Possibly because the Indian photographers are so drenched in the Indian culture that they do not notice it. As a foreigner, I perhaps see India in an objective perspective.
Vikas: Your exhibition is being displayed in India to rave reviews and is about to arrive in the United States. Do you think learning about other religions and others' devotion will develop religious tolerance?
Steveji: I certainly hope so!
With my exhibitions, we are going much further than a trip to the museum. They are accompanied by workshops, study guides and lectures. I hope that it will spread awareness about an ancient culture among the American children and adults alike.


Vikas: There has been religious violence in India recently. In that background, do you think deeply religious people tend to be more fanatical in defending their rituals and engage in violence?
Steveji: From my experience with Indians, the most devout people are also the most tolerant of other faiths. I do not think the religious violence in India has to do with the devotions of Indian people, or the depth of their faith; it is the inevitable side-effect of mixing politics with religion.


Vikas: India is often referred to as as the most religious nation. During your work have you seen any common thread that spans the different religions of India?
Steveji: What I have seen throughout India and in even among non-Indian religions (like the Christians in India) is that their devotion comes from a sense of duty.
Whether it is plucking the flowers for worship or entertaining a guest (Indians believe that the God might visit the home as a guest -Ed), Indians are fulfilling a duty that they need to perform.
I have adapted this incredible sense of duty in my own work.


Vikas: Is tradition the opposite of modernization? What is the impact of development on India's cultural identity?
Steveji: Being traditional is absolutely not the opposite of being modern, and India is a great example of it. Most people do not see India as a modern nation, but in fact, it is a very modern country. I am not saying the traditions do not or should not change. They have and they will.
Most Indians I know in the United States visit temples and perform the rituals, yet leading a very modern and western life.
A modern Indian woman who goes to work as an engineer no longer has time for the daily ephemeral Kolam, but does engage in her creative self by deploying permanent hues. The tools and means will change with time. While we will miss some part of the old, a new form typically develops.
I think the Indian tradition is strong today as it has ever been.


Vikas: Please tell us more about self. Are you an anthropologist or a photographer?
Steveji: While I have formal education in cultural anthropology, I also have an avid interest in photography. I am most excited by the lifestyles of various cultures and consider myself an inter-disciplinarian. After my first book (Village India, Abrahams) was published, I decided to improve upon my photography and took some formal training. I have been writing prose since my younger days. I also read a lot and have a nice collection of my own.
I live in Maine with my wife Helene, who is an artist and whose work nicely compliments mine. I sometimes lecture and teach in Universities (Ohio State Univ. and London Univ.)



Vikas: Do you have any favorite pictures? or stories behind the pictures?
Steveji: Oh. There are so many of them and since they are real people in their natural habitat, there also are fascinating stories behind the pictures.
I am most overwhelmed by the Indians' acceptance of me, their warmth and friendship. I also find the Indian concept of finding the family as a divine unit, fascinating.


Vikas: What is your next project?
Steveji: It is a non-visual project; I am writing a book involving the mystique of Shakti.

Vikas: In your opinion, what can a Government or non-Government institution do to preserve/develop the women's folk art such as Rangoli?
Steveji: Use any means necessary to document the expressions of the folklore. I think it is necessary to educate the common man in India that his/her expression is important and valuable. Though my photography, exhibitions, and lectures, that has been my sole purpose.


Vikas: Dr. Huyler, thank you very much for your insights and taking time to talk to me. We look forward to the exhibition at the New York's Museum of Natural History, and for more works from you.
Steveji: Namaskar.

See Also:
Internet Links: