An Art Teacher's Endless Efforts to Preserve the Art of Rangoli
The name Chitra-Kutira ( The House of Arts) is familiar name for readers all over Karnataka. For many decades, the institution founded and ran by B. P Bayiri has provided the population with endless supply of Rangoli designs to decorate their houses and places of worship.
Picture Courtesy: The Sudha Weekly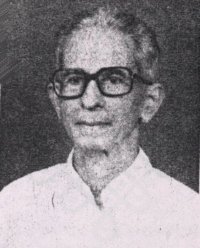 Parameshwara Bayiri
Barakuru Parameshwar Bayiri was born in 1912, and till his demise recently, devoted his life to learn and teach Indian art. For thirty-five years he taught illustration and painting in different high schools in Mulki, Kundapura and Udupi.
A scholar of English, Kannada and Sanskrit languages, Prof. Bayiri, as he is known in art spaces, conducted extensive field work to collect and document Rangoli designs from rural women in India. He dreamt of a day when Rangoli would be recognized as a form of expression of the rural women. He lobbied various periodicals to serialize Rangoli designs (like cartoon strips) and provided the designs.
In his own words:

I have collected this archive of Rangoli designs by watching and learning from many many elderly villagers. Everywhere I traveled, I asked the women and documented them. These unpublished artists, most of them poor rural women have preserved this ancient art due to their devotion and dedication to God. Today I deeply regret that I did not record the names of these artists and consider it a failure of my duty (kartavyalopa).
The treasure mine of Rangoli is drying up due to our ignorance and apathy. So many undocumented designs, folk songs have gone to the funeral pyre along with the artists. This is a tremendous loss to our culture.


See Also: