by K. L. Kamat
First Online: February 22, 2000
Last Update: May 09, 2017
© K. L. Kamat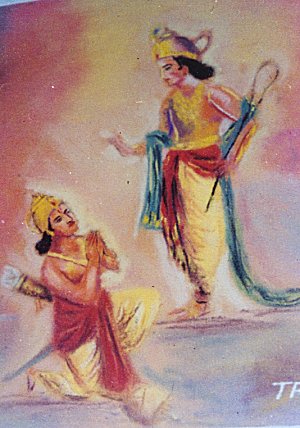 It is hard to believe that these 'painting-like' pictures are actually Rangoli made with laying fine, dry powder through bare hands. The three master Rangoli artists who did these are from Nagpur in Maharashtra. (One of them, Mr. Trimbak Joshi is ailing with poor health and his wife had to constantly attend to him. The portraits of the four is shown at the bottom.) I remind the viewers that Rangoli is a temporary (ephemeral) art in India done with inexpensive, common (rice powder, vermilion etc) materials and the artist has to be very careful not to make a mistake. The subject of the Rangoli are scenes from the Mahabharata, the Hindu epic. They were large designs on the floor and it was difficult for me to photograph them. But I hope that the viewer will get an idea of the mastery and the dedication required for such a Rangoli work.
Scenes from The Mahabharata Epic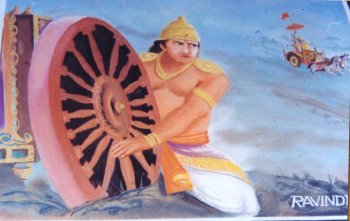 Misfortune of Karna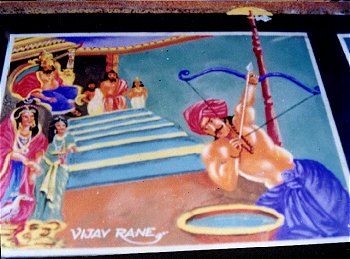 Contest to Marry Royal Princess Draupadi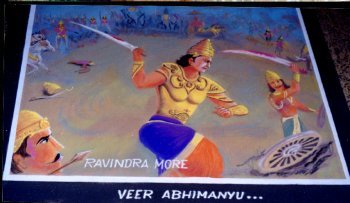 The Brave Death of Abhimanyu
© K. L. Kamat



Mr. and Mrs. Trimbhak Joshi, Mr More (pronounced mo-rae) and Mr. Rane

I was fortunate to accidentally run into the these masters during a recent show in Bangalore. Although they conduct these exhibitions often in Mumbai and other parts of Maharashtra, I had never seen one of this magnitude and class.