The earliest mention of Bengal is the participation of its king Vangaraja in the epic battle of Mahabharata. In the 3rd century B.C., it was part of the Mauryan empire and between 4th and 6th century A.D., came under the Guptas. By about 800 A.D., the Pala dynasty ruled Bengal, then known as Vanga. The Sena dynasty took over from Palas at the turn of 11th century, but were defeated by Qutb-Din-Ibaq, the Sultan of Delhi. After the death of Aurangjeb (1707), Bengal became independent with the Muslim governors running the administration. Siraj-ud-daul the last independent ruler of Bengal was defeated by the British at the battle of Plassey in 1757. After seven years of political instability under Mir Jafar, the British annexed Bengal in 1764, in what was to be the first sign of British colonization of India.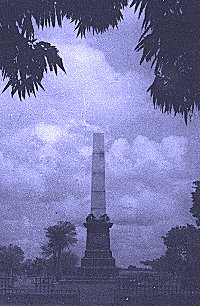 Plassey War Memorial
Plassey, West Bengal
The Bengali elite resisted the British rule and to contain them, Lord Curzon in 1905 divided Bengal into two provinces (divide and rule). This event, known as the partition of Bengal, in fact had the reverse effect and large scale violence broke out elsewhere in India against the British. Peace was restored in 1911, after the British moved their capital to Delhi from Calcutta.
When India became independent in 1947, Bengal was partitioned between India and Pakistan into East and West Bengals. India added the princely state of Cooch Bihar in 1950 to West Bengal State. It also seized the French enclave of Chandranagore in 1954 and added to West Bengal (see present day West Bengal).
The differences between East Pakistan (East Bengal) and West Pakistan caused a lot of trouble in East Bengal and a large number of Bengali refugees migrated to India. In 1971, India interfered and liberated East Pakistan which was renamed as Bangladesh.
Many Bengalis regard and refer Bengal as to include both West Bengal and Bangladesh; their language, literature, culture, food habits being same*

See Also: